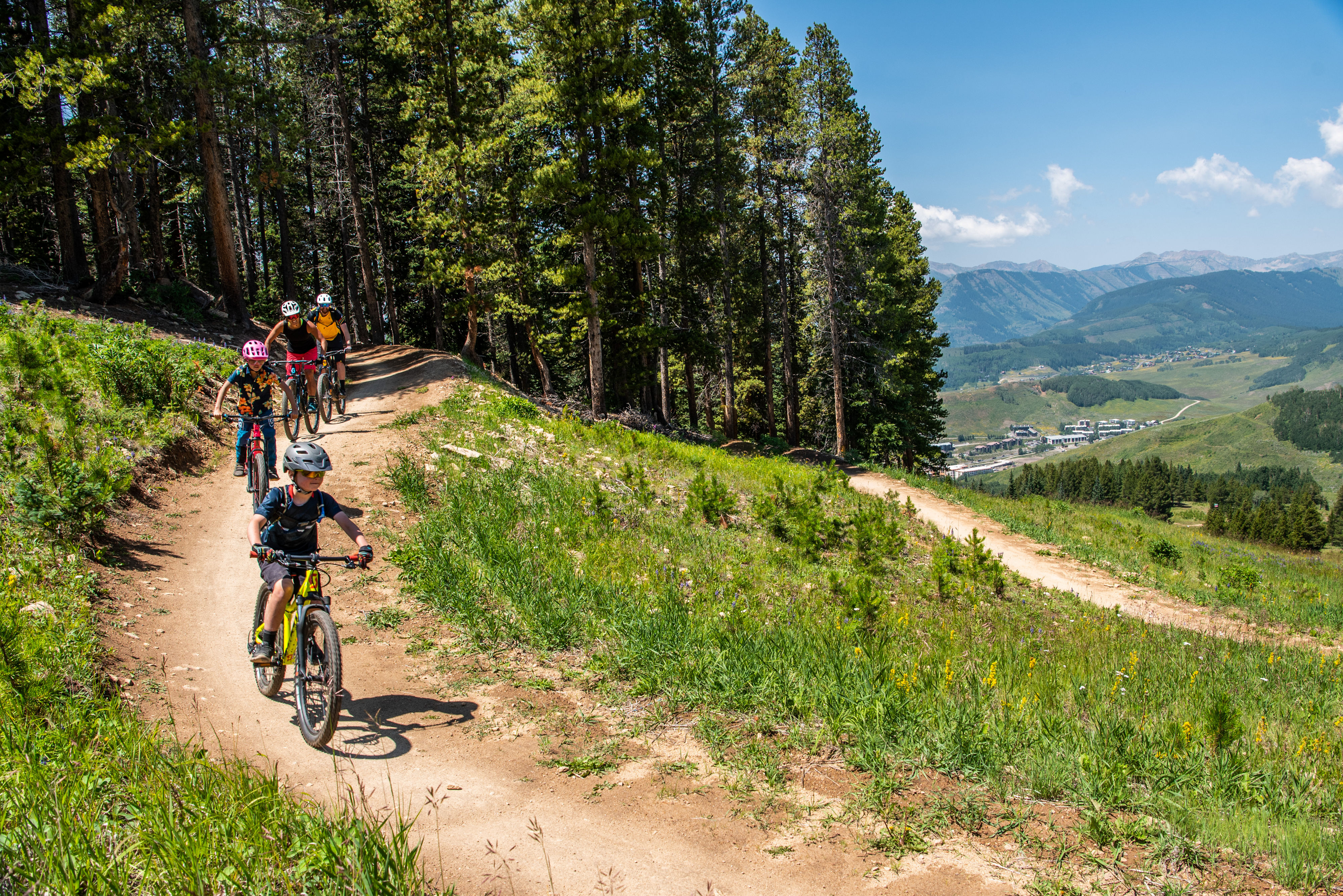 A BIKER'S PARADISE

Crested Butte is known as one of the birthplaces of mountain biking, and enthusiasm for the sport continues today throughout the Gunnison Valley. Ever since the Crested Butte Mountain Bike Park was established in 2009, it has been designed to meet the needs of all riders — from beginners on two wheels to gravity experts. The Bike Park has a diverse network of trails (totaling more than 30 miles of singletrack!) that offer both lift-served downhill and cross-country rides, connecting to some of the legendary trails in and around Crested Butte. Lift-served biking is provided via the Red Lady Express. Guests can purchase season-long, single-day or multi-day bike haul passes on our website or by visiting our ticket office in the Treasury Center.

Back this year as a guest favorite are Twilight Hours! On Friday, June 30th, as well as every Friday night in July, hikers and bikers can enjoy the mountain via the Red Lady Express until 7 p.m. to kick off the weekend. Twilight Tickets may be purchased online or in person at our ticket office on the day-of. Twilight Tickets are included in a full-day bike haul pass or summer season pass. The Twilight Ticket is valid from 4 to 7 p.m.

HIKING & SCENIC CHAIRLIFT RIDES

Explore Crested Butte's vast trail network on foot! Enjoy a hike or trail run with breathtaking views of colorful wildflowers and towering aspen fields. With a little help from the Silver Queen Lift, hikers are even able to summit the iconic, 12,162-foot Mt. Crested Butte! For a little more of a laid back approach, simply take a scenic chairlift ride. Soak in the best views in the Gunnison Valley via either the Red Lady or Silver Queen Express lifts.

Tickets for scenic chairlift rides may be purchased online or in-person at the ticket office. Guests who have already secured 2023/24 Epic Pass products will get free summer scenic chairlift rides and discounted CBMR bike haul passes. This excludes the Epic Day Pass and the Keystone/Crested Butte 4-Pack.

FUN FOR THE LITTLE ONES

Families love CBMR's Adventure Park. Whether rock climbing or casually panning for gems, the Adventure Park is the ultimate spot for family fun. The bungee trampolines provide a turbo-charged, gravity-defying ride up to 30 feet in the air, while the climbing wall features a 28-foot-tall tower with auto-belay.

Adventure Park tickets may be purchased online or in person at the Treasury Center Ticket Office. The Adventure Park ticket includes unlimited access to our rock climbing wall and bungee trampoline, as well as one bucket of sand for gem panning. Additional sandbags may be purchased at the ticket office.

CBMR is once again running the Crested Butte Mountain Resort Summer Camp! Mountain Adventures offers a variety of both on- and off-mountain activities for kids ages 7-14, including white water rafting, fly fishing and mountain biking for all ability levels. Littler ones ages 5-8 will have a blast at Camp CB, where they will participate in chairlift rides, resort nature hikes, Adventure Park activities, arts & crafts and more. For the tiniest of adventure-seekers who know how to ride a pedal bike, Mini Riders allows 5- and 6-year-olds to build a foundation of skills that will transport them into the sport of mountain biking.

EVEN MORE TO DO ON-MOUNTAIN

Still needing more fun for the whole family? Guests can check out not one, but two disc golf courses on-mountain! Those wanting to do the full 18 holes can head to 10-3 @ CB, named after the high-alpine elevation of 10,300 feet. The course begins at the top of the Red Lady Express and meanders to within easy strolling distance of the base area. CBMR also offers a short course accessed from the top of the Red Lady Express with amazing views of Mt. Crested Butte. The course loops back to the Red Lady Express once you have completed your round. Guests must bring their own discs.

CBMR also offers a free, 20-target archery course at the top of the Red Lady Express for archers to practice their skills all summer long. Lifelike 3-D targets of mule deer, whitetail deer, black bear, fox, coyote and elk are set amongst the beautiful mountain landscape in a format that appeals to all ability levels. The loop covers about 1.5 miles and returns archers to the top of the chairlift, where they can download back to the base. Archers must bring their own equipment and sign a waiver at the ticket office before hiking or riding the Red Lady Express to the sight-in range.

EVENTS

From mountain biking races to outdoor concerts and fourth of July celebrations, there is fun to be had at CBMR all summer long! Some fun events guests can look forward to for summer 2023 include:
Live! At Mt. Crested Butte summer concert series (6/21, 6/28, 7/5, 7/12, 7/19, 7/26, 8/2, 8/9)
Pinnacle mountain bike race series (6/30, 7/7, 7/14, 7/21, 7/28)
4th of July celebration
Living Journeys Summit Hike, Half Marathon & 10K Trail Run (7/29)
The Grand Traverse (9/2)
Chili & Beer Festival (9/9)
Stay tuned to our events page for more details as each event draws closer!

FUEL UP

Whether you're looking for energy to get your day going, a midday pick-me-up or some end-of-day eats, CBMR has you covered for dining both on-mountain and in the base area. Back for summer for the first time since 2019, The Umbrella Bar at Ten Peaks is the perfect spot to take a break and take in the views! The Umbrella Bar sits at the top of the Painter Boy chairlift and offers a variety of food options for the whole family.

Guests looking for a quick breakfast bite on their way from the bus or parking lot can stop at Woodstone Grille in the Grand Lodge for convenient grab-and-go options. Coal Breaker Coffee Co. is also a great place to fuel up before hitting the bike park, and is conveniently located right next to the Treasury Center ticket office. New to the menu for summer 2023 are refreshing smoothies!

Sit down for some lunch or end the day with a drink at Butte 66 – featuring house-smoked meats, a craft beer lineup complemented with hand-crafted cocktails, and exceptionally friendly service. The Butte 66 deck is the perfect place to watch bikers come down the mountain and listen to the Live! At Mt. Crested Butte Summer Concert Series.

GET YOUR GEAR

Whether you're looking for a week-long bike rental or just a half-day exploring the mountain, the Crested Butte Rental & Demo Center can accommodate your needs. You can reserve your bike online or in-person on the day-of.

If you need new gear or just want some swag to remember your visit by, swing by one of our retail shops! Crested Butte Mountain Outfitters is conveniently located right next to the Rental & Demo Center. You can also check out Thin Air Sports as you make your way out of the base area.

With so many activities to explore, it's sure to be an incredible season in Crested Butte! Make sure to secure tickets for your summer activities now. We can't wait to see you on the trails!