Terrain Parks
Crested Butte's terrain parks provide skiers with a different fun factor than they could find on natural terrain.
Previous tab
Previous tab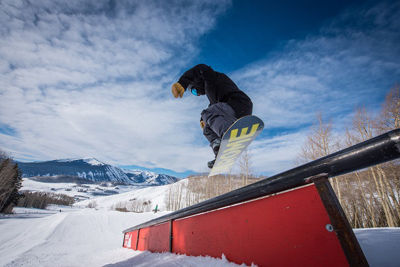 Ten Peaks Progression Park
Our progression park offers small, simple lines with features to learn on as well as to take your skills to the next level. Ten Peaks is a great place to work on new tricks before taking them to larger parks across the resort and is usually the warmest place on the mountain.
Lifts to Access: Painter Boy, Gold Link & Prospect Lifts
Features: Small & Medium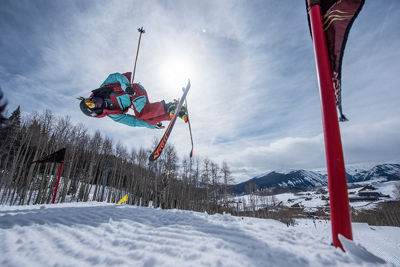 Lower Twister Terrain Park
The Lower Twister Terrain Park is our newest park offering. This location was chosen for its ideal rolling terrain, ease of access from the Red Lady and Silver Queen high speeds quads, plus state-of-the-art snowmaking. This park will morph as we receive more snow throughout the season. Currently, this zone consists of three perfectly manicured jumps in the 25' to 35' range. Find this park below Uley's Cabin on Lower Twister.
Lifts to Access: Red Lady Express & Silver Queen Express
Features: Medium & Large
Park Safety Information
While enjoying the freestyle terrain that Crested Butte has to offer, safety is the utmost priority. We encourage all guests exploring the terrain parks to:
Start Small. Work your way up. Build your skills.
Make a Plan every feature. Every time.
Always Look before you drop.
Respect the features and other users.
Take it Easy. Know your limits. Land on your feet.
To keep the park environment safe, Crested Butte Mountain Resort marks all Freestyle Terrain with orange oval signs. When entering this terrain, know your limits. Follow any instructions that resort employees give regarding closures and hazards. Take a look at the trail map to become familiar with the locations of Freestyle Terrain. Take the time to educate yourself on PARK SMART, and tell your friends about it. Following these safety guidelines will set you up for success in the Park.
Visit the National Ski Areas Association Park Smart Website to learn more about terrain park safety.