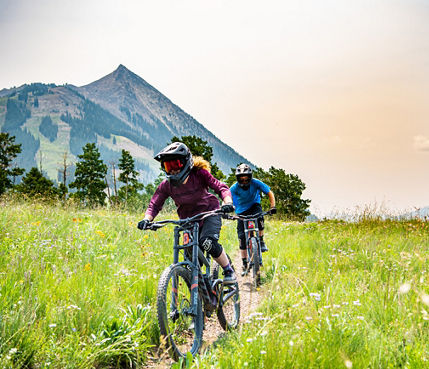 While many know the destination for its top-tier winter activities, visiting Crested Butte in the summer offers equally thrilling outdoor explorations. Summer visitors can experience exceptional outdoor activities, annual festivals, and downtown attractions to make for the perfect visit.
From a scenic bike ride in Crested Butte Bike Park to a visit to the annual Wildflower Festival, there's always something new to explore throughout the warmer months in Crested Butte. Before your next visit, explore these top summer activities to add to your travel itinerary.
1. Crested Butte Mountain Bike Park
A Crested Butte summer is not complete without a ride through
Crested Butte Mountain Bike Park
, which features over 30 miles of downhill, multi-use, and uphill bike trails. This park features both natural and man-made paths for bikers of all skill levels, offering endless choices for adventure that connect over 750 miles of singletrack throughout the Gunnison Valley.
Since 2009, visitors have enjoyed legendary rides in and around Crested Butte, especially during the warmer summer months.
The bike paths of Crested Butte Bike Park are lift-served by the Red Lady Express Lift, making it easy for guests of
Crested Butte Ski Resort
to access a vast number of bike trails. Those with an
Epic Pass
can also receive 20% off bike rentals throughout the summer.
Single-ride bike lift tickets
are also available.
2. The Peak of Mount Crusted Butte
Crested Butte in the summer offers the perfect atmosphere for a
scenic hike
, especially at the popular Peak of Mount Crested Butte. This hike can be accessed via the Silver Queen Express, allowing individuals to climb 12,162 feet to the peak. Follow signs from the top of the lift and climb up the wooden steps to begin the hiking trail. This steep hike gets steeper as you climb higher.
Prepare for this trip to be moderately difficult, spanning about two miles total round-trip. Once you reach the peak, soak in the stunning views of the Gunnison Valley, the East River, the Elk Mountains, and so much more. This summer-time activity takes most visitors about two to three hours.
3. Wildflower Festival
Crested Butte in the summer comes alive with the annual
Wildflower Festival
, a 10-day event every July. This festival features over 200 workshops located on Elk Avenue, offering everything from photography classes to culinary arts classes.
In addition, the Wildflower Festival offers visitors a chance to take expert-guided hikes to explore the exciting wildflowers of the region and learn about the mountain flora of the region. Crested Butte visitors with diverse interests can each
find something to explore at the annual Wildflower Festival
!
Many Crested Butte businesses will even use local plants from the Wildflower Festival in their culinary creations, such as the
Third Bowl Homemade Ice Cream
. Foodies can also get a unique hands-on experience during a Crested Butte summer, using flowers in edible creations in the culinary classes of this festival.
4. Exploring Elk Avenue
Located just two miles south of Crested Butte Ski Resort, consider adding a visit to
Elk Avenue
to your travel plans this summer. Elk Avenue, or Elk Ave, is a vibrant downtown region that offers many bars, shops, and restaurants to explore. Guests staying at Crested Butte Ski Resort can hop on the Mountain Express lift in Mountaineer Square and grab a shuttle to experience a day or night out on Elk Ave.
While there's so much to explore on Elk Ave, popular spots include a local distillery, Montanya Distillers, or the
weekly farmers marke
t (offered throughout the summer). No matter how many times you visit, there are always things to do in Crested Butte while exploring Elk Avenue.
5. Music on the Mountain: Live! at Crested Butt Mountain Resort
Enjoy live music right here on the resort during your visit! Every Wednesday from June 21 - Aug. 9, the Red Lady Stage will feature a
free Crested Butte concert
with a local opener followed by a headlining act. The peak of Mt. Crested Butte provides the perfect backdrop for an evening of live music, food, and drink. Check out the lineup for the
Music on the Mountain
series and be sure to pack your blankets and lawn chairs.
6. Crested Butte to Aspen Hike
Looking for a real challenge to complete your Crested Butte summer? Advanced hikers can check out the
Crested Butte to Aspen Hike
, an advanced hike requiring some planning. This is one of the most popular and difficult hikes in the area, and one of the most iconic hikes in Colorado, and will take you all day to complete.
This intense hike spans over 20 miles with an out-and-back setup, offering amazing views of the mountain vistas, wildflowers, and more. Since this hike generally takes at least two days, many hikers pack a backpack and choose to camp out in order to complete the whole hike.
Before embarking on the Crested Butte to Aspen Hike, don't forget to prepare proper hiking gear, food, water, and other supplies. While this hike can be completed throughout many months of the year, the summer is a great time to see the wildflowers that grow in the region.
Discover a Summer at Crested Butte Ski Resort
A summer of adventure is waiting for you at Crested Butte Ski Resort. From outdoor activities like scenic hikes and bike rides to outdoor music events, there's plenty to do to complete your Crested Butte summer.
Ready to experience the beauty of Crested Butte yourself? Explore our full list of
summer activities
to
plan your summer visit today
!