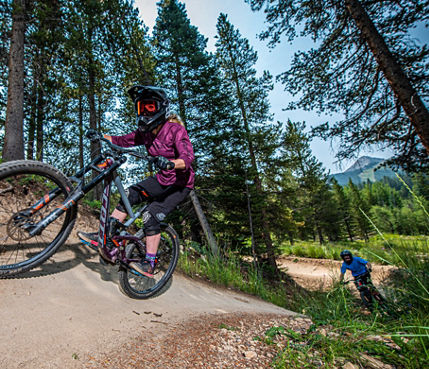 In Crested Butte, mountain biking is a major draw throughout the summer. The resort town in the Elk Mountains is highly regarded as one of the
birthplaces
of mountain biking. For experienced mountain bikers, it's a bucket-list destination. First-timers and more casual riders find Crested Butte bike trails to be both accessible and unforgettable.
There are 750 miles of world-class trails throughout the Gunnison Valley. Crested Butte's own Mountain Bike Park claims some of the best of them. Plus, the resort offers bike haul via scenic chairlift for easy access to high-altitude trails. Whether you're in pursuit of the best mountain biking in Colorado or simply a fun adventure, you'll find everything you need at
Crested Butte Resort
.
When Should I Mountain Bike in Crested Butte?
The season for mountain biking in Crested Butte, CO is May through October. However, the open season for the Crested Butte Mountain Bike Park, bike haul on the Red Lady Express, and other
summer activities
is typically from mid-June to late September. The exact opening dates vary from year to year depending on snow levels. Check online for up-to-date details.
Crested Butte Mountain Biking Equipment Rental
You do not need to bring your own bike and other equipment to enjoy mountain biking in Crested Butte.
Bike rentals
are readily available at the resort through the Crested Butte Rental and Demo Center. The center, centrally located in the base area of Mount Crested Butte, is open daily. The staff are experts who can recommend the best bikes for your needs and help you navigate the bike park
trail map
to pick the most suitable Crested Butte bike trails for your adventure.
Top-brand bikes are available to hire for all ages, terrains, and abilities. Choose standard, premium, or demo downhill bikes, kids' and standard trail bikes, or path bikes if you're sticking to the smoothest of trails. Rentals are by the full or half day and always include a helmet.
Book online
or stop in at the rental center, where you can also purchase lift tickets.
Bike Haul on the Red Lady Express
Getting you and your bike up to the high-elevation trails at Crested Butte is no problem with
bike haul
via the Red Lady Express. Choose a single-ride ticket for a one-time bike upload or get unlimited all-day access to the Red Lady Express with full-day and multi-day tickets. These options also include unlimited scenic chairlift rides on the Silver Queen Express and access to the disc golf course, a 3D archery course, and hiking trails. Adult, child, and senior rates are available for all ticket options, with twilight rates starting at 4 p.m every Friday through July 28th..
Crested Butte Mountain Bike Park
The 30-plus miles of singletrack at
Crested Butte Mountain Bike Park
promise some of the best mountain biking in Colorado. This is true for all riders from beginners to experts, as the park's trail network covers a broad range of difficulty levels. From the base area to the high slopes of Mount Crested Butte, riders can access varied types of terrain, natural and man-made features, and downhill and cross-country routes.
The Best Trails for Beginners
Beginners, or anyone who prefers an easy ride or warmup, should look to the trails marked with a green circle on the Crested Butte Mountain Bike Park trail map. The easy trails are no less scenic than the harder ones, and you'll get to ride through beautiful wildflower meadows and shady aspen forests with a striking mountain backdrop.
Awakening and Lower Awakening
Awakening and Lower Awakening pass through beautiful wildflower meadows and shady aspen forests with a striking mountain backdrop.
Hotdogger
Hotdogger, an easy, downhill trail, has wide tread and beginner-friendly gradients. The trail is in the Smith Hill area at the top of the lift.
Painter Boy
Painter Boy is a gentle, multi-use trail with exceptional mountain range views and, later in the season, some gorgeous fall foliage.
Intermediate Trails for an Increased Challenge
For excellent Crested Butte mountain biking with a bit more of a challenge and speedier pace, look to intermediate (blue square) trails featuring rolls, berms, and jumps.
Luge
The resort recommends Luge as a warm up before hitting tougher trails. Its moderate terrain includes natural and man-made obstacles.
Frequency and Sharpshooter
The undulating downhill track of Frequency is ideal for entry-level jumps, as is the slightly tougher Sharpshooter.
Meander and Lower Meander
Intermediate-level multi-use trails include Meander, which overlooks the East River Valley, and its Lower Meander extension for an even wider panorama.
Deer Pass and Prospector
Multi-use Deer Pass connects Lower Meander with the steadily climbing, cross-country Prospector trail.
Columbine
Test your legs with the Columbine trail up Columbine Hill. This is a multi-use trail, so keep an eye out for hikers.
Amazing Advanced-Level Trails
With a complex series of drops, dirt, and wood features, dense forest terrain, and tight curves, the half-dozen advanced downhill trails (black diamond) at Crested Butte are unforgettable.
Woods
Advanced-level riders should check out the Woods trail for a large wall ride and fun wooden features.
Timetable
With 13 dirt and wood features, Timetable is a thrilling downhill trail for advanced-level mountain bikers.
Crusader
The intermediate downhill Crusader has distinct first and second halves, with intense, tight curves followed by a smoother flow and a large jump to finish.
Avery
Covering pine forest and rock-garden terrain, with a fast pace and ample jumps, Avery is famous for offering some of the best mountain biking in Crested Butte. The trail is notable as the downhill racecourse for the Mountain States Cup and Pro GRY.
Boulder Mason
Ever wanted to ride along the top of a stone wall? The "short but awesome" Boulder Mason is for you!
Expert Trails for Incredible Thrills
For adrenaline-seeking, highly experienced riders only, Crested Butte bike trails marked with a double black diamond offer the thrill of a lifetime. Two downhill bike trails earned such a designation.
Psycho Rocks
Psycho Rocks is the most technical trail in the park, named for its massive boulder features.
Captain Jack
Captain Jack is a fast, demanding downhill race course over all-natural terrain.
Ready for the Best Mountain Biking in Crested Butte?
Maybe a vacation dedicated to Crested Butte mountain biking is a lifelong dream. Perhaps half a day of easy biking around wildflower meadows and aspen groves is just one of many items you'll add to your itinerary. Either way, it all begins when you book your summer adventure at
Crested Butte Resort
!