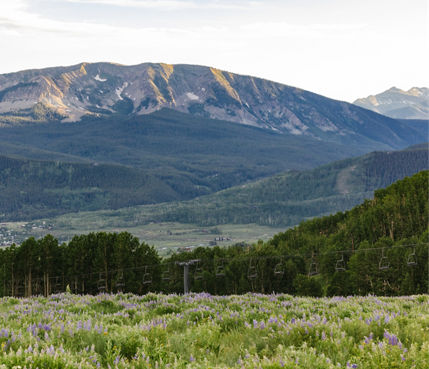 The Crested Butte Resort is ideal for your stay if you want to explore Colorado. Along with top-class lodging facilities, the resort has many activities to enjoy as you soak in the scenic views. Alternatively, you can enjoy some Crested Butte fly fishing nearby.

If you're a fan of fly fishing, you'll love your stay at the resort even more as it's close to several Crested Butte fly fishing sites. All you'll need is your gear as this article explores the top Crested Butte fly fishing sites, giving you invaluable insights into each, making it easier to choose the perfect spot.

1. Taylor River

Make your way to the Taylor River for an unforgettable fly-fishing adventure. With crystal-clear waters and an abundant fish population, you can catch brown trout, rainbow trout, and cutthroat trout at this waterway.

This fly fishing hotspot offers a variety of access points, allowing you to explore different stretches of the river. Be sure to check the local regulations and obtain any necessary permits before you cast your line.

If you're looking for additional guidance or need to gear up, there are excellent guide services and fly-fishing shops in the area. They can provide the right equipment, suggest the best flies, and ensure a successful day on the water. It'll take you 35 minutes to drive to Taylor River from Crested Butte Resort.

2. Gunnison River

The Gunnison River is a must-visit destination for any avid fly angler. In addition to the diverse fishing opportunities, you'll also appreciate the breathtaking scenery, making for an unforgettable experience.

With its varying sections, the river caters to different fishing preferences. You'll find a spot that suits your style, from peaceful stretches to more challenging rapids.

Before embarking on a fishing excursion at Gunnison River, familiarize yourself with the regulations and permit requirements. This will ensure you have a hassle-free and enjoyable fishing experience. Should you need gear for your fishing trip, you can shop or rent at Gunnison River Fly Shop, which also offers guide services to help you navigate the river's nuances if you need expert guidance.

The distance from Crested Butte Resort to Gunnison River is approximately 26 miles. The driving time to get there is usually around 40 minutes, depending on traffic and road conditions.

3. East River

Look no further than the East River for a hidden gem in the world of fly fishing. This lesser-known destination offers pristine waters, beautiful surroundings, and the chance to reel impressive catches. Prepare to encounter trout, including rainbows, browns, and cutthroats.

The river provides various access points, each offering unique fishing opportunities. You can choose between casting from the riverbanks or wading into the water for a more immersive experience.

Before exploring the East River, visit The Perfect Fly Store to get the best fishing gear and a selection of flies that mimic the local insect population. With the right bait you'll increase your chances of catching fish even if it's your first time. You can also book a fly fishing guide to tap into their expertise and make the most of your time on the river.

The East River is 12 miles (20-minute drive) away from Crested Butte Resort.

4. Slate River

Another fantastic spot for fly fishing near Crested Butte is the Slate River. The area promises a memorable fishing experience with a tranquil atmosphere and a large trout population. Some of the species you'll encounter include rainbow and brown trout.

The river offers various access points along its length, allowing you to explore different stretches and find your ideal fishing spot. Remember to check local regulations and obtain any necessary permits before you start fishing.

Whether you're a seasoned angler or a beginner, the Slate River caters to all skill levels. Since it is 6 miles from Crested Butte Resort, you can plan several visits to perfect your fishing skills. If you need a trip guide or a place to shop for fishing supplies, visit Vail Valley Anglers.

5. Gothic Creek

Sometimes fishing is also about enjoying the peace away from civilization. If this is the experience you want, consider Gothic Creek for fly fishing near Crested Butte.

Expect a moderate hike to reach the creek. However, after the strain of the walk, you'll be rewarded with pristine fishing waters. Considering it's remote, you should double-check your supplies before leaving.

Nestled in the picturesque mountains near Crested Butte, Gothic Creek offers a tranquil setting and the opportunity to catch various trout species. It is an ideal destination for those looking to escape the crowds and immerse themselves in nature. With its peaceful surroundings and abundant fish, you'll have a memorable day of fly fishing in Crested Butte, CO.

Depending on road conditions, it'll take you 25 minutes to get from Crested Butte Resort to Gothic Creek, as it is only 10 miles away.

Why You Should Consider Hiring a Fly Fishing Guide

If you're new to fly fishing or want to enhance your skills, hiring a fly fishing guide at Crested Butte can be a game-changer. These experts can provide valuable instruction, share insider tips, and help you navigate the local waters confidently.

Crested Butte Colorado fly fishing guides will increase your chances of catching fish and ensure you make the most of your time on the river. They can take you to the best fishing spots, assist with equipment and fly selection, and offer insights into the local ecosystem.


Other Activities to Enjoy in the Area
Whether you're staying at the Crested Butte Resort or exploring the surrounding area, here are some exciting activities that outdoor enthusiasts can enjoy:
Activities at Crested Butte Resort:
Disc Golf: Test your skills on the resort's disc golf course, navigating through scenic landscapes while aiming for the targets.
3D Archery: Channel your inner archer and experience the thrill of shooting targets in a three-dimensional outdoor setting.
Activities in the Surrounding Area:
Whitewater Rafting: Experience the exhilaration of navigating through rapids on the nearby rivers, with guided rafting trips available for different skill levels.
Wildlife Viewing: Embrace the abundance of wildlife in the area and embark on wildlife viewing excursions, where you can spot majestic creatures in their natural habitats.
Plan Ahead to Get the Most Out of Your Fishing Trip
Crested Butte and its surrounding areas are a haven for fly fishing enthusiasts. From the scenic Crested Butte River to the secluded beauty of Gothic Creek, there are plenty of incredible spots to cast your line and reel in unforgettable experiences.
Remember to check local regulations, obtain necessary permits, and respect the environment while enjoying your fly fishing adventures. Whether you explore the rivers alone or hire a knowledgeable guide, the abundance of trout and the area's natural beauty will make your fly fishing trip near Crested Butte remarkable.
With such diverse Crested Butte fly fishing options, you may want to try a few. In this case, you need to be strategically located. This is where the Crested Butte Resort comes into the picture. Along with our many activities, we're near these fly fishing spots in Crested Butte.
Book your stay at the
Crested Butte Resort
to have the ideal place to relax and unwind after your Crested Butte fly fishing adventure.