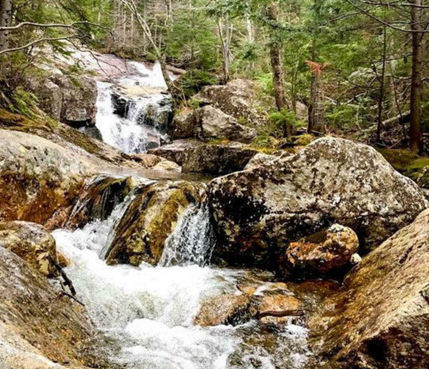 Breathtaking scenery and world-class outdoor adventures are the major draws to Crested Butte Resort during all four seasons. In
summer
, the trails near Crested Butte attract many visitors, from avid, experienced hikers to anyone just seeking a few pleasant hours in the fresh mountain air. A vast network of trails promises hikers access to wildflower meadows, tumbling rivers, and snow-capped peaks. Perhaps most enticing of all are the numerous waterfalls near Crested Butte. Reaching one of these natural treasures, with their cooling spray and mesmerizing splendor, makes any Crested Butte waterfall hike especially memorable.
Locals and visitors rave about summertime hikes to the following waterfalls near Crested Butte. Consider adding one or more to your vacation itinerary at
Crested Butte Resort
.
Note that although there are
public transport
options around Crested Butte, none will get you to trailheads for waterfall hikes. You'll need to drive your car or arrange a ride and carefully check road conditions and directions before departing.
Judd Falls
The trail to Judd Falls is one of the most popular Crested Butte waterfall hikes. The wide, rocky trail is
rated easy
, with a round-trip total of around 2 miles from the trailhead. The location, just above the hamlet of Gothic inside Gunnison National Forest, is approximately 9 miles from Crested Butte. Parking in the lower Copper Creek lot adds half a mile each way, with the upper lot only accessible by 4WD. There are restrooms in the parking lot, and the trail is signposted.
Wherever you start this Crested Butte waterfall hike, Judd Falls is still one of the
most accessible
waterfalls in the region. Reach the two-tiered cascade and see its dramatic descent into a canyon after hiking along a wide dirt road through an aspen forest, then a narrower, rockier trail to the viewing spot. Along the way, take in the views of Gothic Mountain, Mount Baldy, and Mount Crested Butte, along with ample wildflowers and greenery. The trail can be wet and muddy, especially with early-season snowmelt, so pack appropriate footwear. For a longer hike, continue past Judd Falls to Copper Creek and Copper Lake.
Oh-Be-Joyful Trail
This delightfully named trail inside Gunnison National Forest is a challenging 13-mile out-and-back route parallel to the Oh-Be-Joyful Creek. With numerous waterfalls along the creek plus dramatic rapids, you can hike just a few miles and still see some of the best waterfalls near Crested Butte.
The
Oh-Be-Joyful trailhead
is approximately 15 miles from Crested Butte Mountain Resort. Drive southwest out of Crested Butte along Gothic Road, then 5 miles along County Road 734. This scenic road wraps passes by Nicholson Lake and parallels the Slate River for much of the journey. Turn onto BLM Road 3220, which is steep and can be rough, and reach the parking lot after 0.4 miles.
The trail switches from a two-track to one path, taking you through dense fir and spruce forests. Enter a long meadow, which in early summer is bursting with wildflowers, and admire views of Schuylkill Mountain and Oh-Be-Joyful Peak, both exceeding 12,000 feet. Snow might still be present and pose a challenge early in the season.
Rustler Gulch
Hiking
Rustler Gulch
, a 7-mile round-trip, promises you not just one but multiple waterfalls near Crested Butte. The spectacular hike also showcases a wide variety and abundance of colorful wildflowers, which peak in late July and early August. With an elevation gain of 1,850 feet and a max elevation of 11,400 feet, this Crested Butte waterfall hike is rated moderate in difficulty.
Prepare for a couple of stream crossings, one of which you can skip in favor of a fallen tree trunk that's become an improvised bridge. Highlights include the views of Gothic Mountain and Precarious Peak and, of course, the waterfalls at the pinnacle of the trail. Opt to hike the super-steep terrain beyond the falls for even better views and additional mileage.
The trailhead is approximately 11 miles outside Crested Butte; the last section of the road is rocky. The journey from the resort is approximately one hour each way via Gothic Road/CO-317.
Mill-Castle Trail
For experienced hikers seeking a long-distance challenge with the reward of an incredible waterfall near Crested Butte, consider the
25.1-mile
Mill-Castle Trail in
Gunnison National Forest
. Besides the trail's considerable length, major challenges include an elevation gain of 6,902 feet, a sometimes-perilous creek crossing, steep switchbacks, and the occasional herd of cattle. The reward is some of the most spectacular scenery in the West Elk Wilderness.
For a shorter hike with fantastic scenery, consider the first 2 to 5 miles of the Mill-Castle Trail, which cover the easiest terrain. You can also see waterfalls without covering the entire length of the trail.
The trip to Mill-Castle Trail from Crested Butte Mountain Resort is approximately 38 miles each way. Head south from the resort on Gothic Road/CO-135 and drive toward Gunnison on Gothic Road. Take a sharp right on CO-730 just north of Gunnison, then turn left on CO-727. Parking is available at the trailhead.
East River Trail
The
East River Trail
leads to one of the best waterfalls near Crested Butte, and it's a readily accessible trail for resort guests. The trail is easy and family-friendly, and you don't need to venture far from the resort for this beautiful waterfall hike. Located inside Gunnison National Forest, the trail begins on a forest service road less than 5 miles outside Crested Butte. Drive south on Gothic Road for 2.2 miles, connect to CO-135, and drive 2.1 miles to Brush Creek Road — the trailhead is another 2.5 miles ahead.
A 4.4-mile round trip over easy terrain, it's an accessible hike for beginners and can be completed in under two hours by most hikers. Take your time to enjoy the spectacular scenery along the trail, including panoramic views of the East River Valley and White Rock Mountain. Approximately 1.5 miles into this hike, the waterfall is small but beautiful. There's also a pretty creek at the end of the trail.
Add a Crested Butte Waterfall Hike to Your Vacation Plans
When you're planning a summer vacation at
Crested Butte Resort
, be sure to add a waterfall hike to your itinerary. Also, consider the high-country trails on the resort property, which hikers can access via the
Silver Queen Lift
. Along with an unforgettable waterfall hike, summiting Mount Crested Butte could be one of the best experiences of your summer vacation!