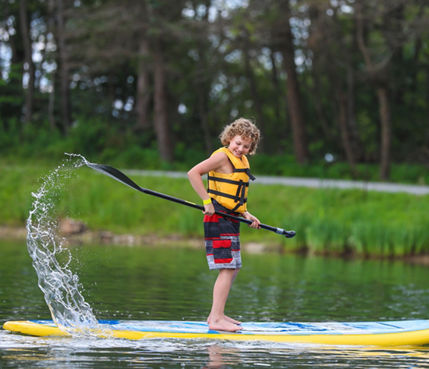 Crested Butte is a small town located in Gunnison County, Colorado. But don't let this fool you. Despite its small size, this town is a hive of summer activities due to its appreciation of the traditional mountain lifestyle, which was centered on outdoor recreation — it even earned its name "the last great Colorado ski town" because of this.

One activity that has gained popularity in recent years in Crested Butte is paddleboarding, specifically stand-up paddleboarding (SUP). Paddleboarding Crested Butte is a great way to explore the picturesque lakes and rivers distributed across this beautiful landscape while exercising and enjoying the great outdoors.

Grab your boards and explore these four places to paddleboard in Crested Butte!

1. Slate River

Slate River is one of the main places in Crested Butte suitable for exploration with a paddle board. It is a tributary of the East River located approximately three to four miles from Crested Butte Mountain Resort. The water of the Slate River is generally gentle and calm. Still, its levels vary, with the lowest levels being experienced at the end of July.

The perfect launch sites for paddleboarders paddling in the Slate River are the Town Recreational Path and the Gunsight Bridge. When you're done with paddling and need to exit, head towards Skyland at Brush Creek Road.

If you're a beginner, having some experience paddle boarding in other calmer waters is highly advisable before paddling in Slate River. It is also crucial to research beforehand to be fully aware of the current conditions of the river. The lower section of the slate river is calmer. If you are a beginner, you can start here but avoid the upper stretch as it's more challenging and suitable for experienced paddleboarders.

You should also ensure you have the appropriate equipment for river paddleboarding. If you lack the necessary equipment or are new to Slate River, paddleboard rentals here have you covered. Equipment available for rent includes SUP paddles and paddle board add-ons such as leashes and personal flotation devices.

Getting to Slate River from Crested Butte Mountain Resort is usually a 15-minute drive. To get there, take the Gothic Road north for less than a mile and turn left onto Slate River Road. Then follow that road until you reach the Slate River area. Once there, you can park your car along the county road before embarking on your paddleboarding adventure.

2. Emerald Lake

The Emerald Lake gets its name from its beautiful emerald color caused by the reflection of the surrounding greenery in the clear water. The lake is 12.6 miles from Crested Butte Mountain Resort and is accessible through a 40-minute drive along Gothic Road.

During summer, the glacial flour floats close to the lake's surface, making the emerald color more vibrant. July and August are the best months to visit this lake for peak color and beauty.

Before venturing to this stunning lake, check the weather forecasting, as the weather in Colorado can change abruptly. Since the Emerald Lake place is a popular destination, it's good to arrive early to secure a parking spot.

Stand-up paddleboarding in Emerald Lake is an unforgettable experience. Since you are standing on your board at full height, you get a unique and beautiful vantage point for viewing the horizon, underwater plant, and animal life.

3. Lake Irwin

Lake Irwin is about nine miles from Crested Butte, making it the closest lake to town and an ideal spot for paddlers and hikers.

For beginners, Irwin Lake is a great starting point. The waters here are calm and flat, especially early in the morning or on windless days, making it suitable for a novice paddleboarder. Moreover, the lake has limited boat traffic meaning waves that make paddleboarding challenging are few, making beginner paddleboarders' adventures more enjoyable.

Rentals near Lake Irwin are there for you if you need more appropriate equipment for stand-up paddleboarding. They ensure you always have the best day possible, whether in the water, in town, or hiking.

Lake Irwin is opened between mid-June and early October with a day-use fee.

The drive from Crested Butte Mountain Resort to Lake Irwin takes approximately 20 to 30 minutes, depending on road conditions and traffic. To reach the campground at Lake Irwin, you'll need to take Kebler Pass Road for about six miles onto a dirt road. Follow this two-and-half-mile dirt road to reach the Lake Irwin Campground.

4. Blue Mesa Reservoir

The Blue Mesa Reservoir is located on the Gunnison River and extends to the dam at Highway 92. Outdoor activities at this reservoir are most enjoyable between May and September. This period's clear waters and warm weather favor camping, boating, and fishing.

The large size of this reservoir offers paddleboarders ample space for exploration, eliminating the sense of overcrowding. The paddling experience is enhanced by the stunning views of the surrounding Rocky Mountain landscapes.

Before bringing your motorized or trailered boat to this reservoir, ensure they comply with Colorado boat regulations for safety. There aren't any rentals nearby, so pack all the equipment you'll need for your paddling adventure.

The Blue Mesa Reservoir is located 46.8 miles away from Crested Butte Mountain Resort. The drive there takes about an hour, but the views are well worth the trip. Once you arrive, you can park at the Dillion Pinnacles parking or along the county road.

Paddleboarding in Crested Butte Etiquette

Stand-up paddling is risky if you're not mindful of safety. Whether you are a beginner or an experienced paddler, wear a life jacket and a personal flotation device when you're out in the waters.

Use designated launch and exit points to avoid obstructing shorelines or disrupting other people's water activities. River and trespassing laws in Colorado are different — familiarize yourself with them and always stay on the water to avoid trespassing private properties.

Consult the locals on the rules and regulations before you hit the water to ensure you adhere to the designated areas, speed limits, and watercraft regulations. Local rental shops and guide services are great resources.

If you are a novice paddleboarder, you should seek training from professional paddleboarders and carry the equipment required for the trip. You can visit a local rental shop to book a guided trip with experienced paddleboarders in Crested Butte or rent the necessary equipment.


Plan Your Next Paddleboarding Adventure With Crested Butte Mountain Resort
As enjoyable as it is, sometimes a long day of paddleboarding can leave you exhausted. Crested Butte Mountain Resort provides the best luxury hotels catering to your every need, ensuring you are well-rested after every adventure.
Plan your next paddleboarding adventure
to this wonderland with us today!