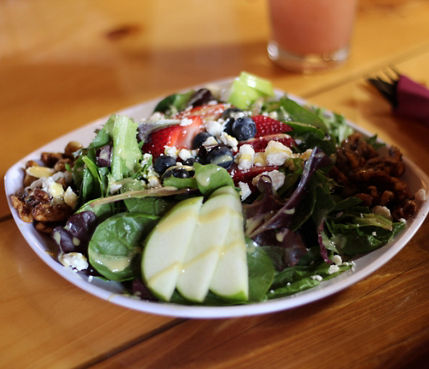 Dining gluten-free in Crested Butte is pleasingly straightforward, thanks to the many restaurants in the town offering delicious, gluten-free menu options. The best gluten-free restaurants in Crested Butte typically print necessary details on their menus, such as icons indicating gluten-free fare and options for substitutions. (Remember, it's still important to ask questions and practice due diligence according to your personal dietary restrictions.)

The most promising destinations for gluten-free Crested Butte diners go beyond just a handful of items. The best of them dedicate significant menu space to such meals. Even better – these gluten-free restaurants in Crested Butte span a wide variety of cuisines. This means you can satisfy cravings for a gluten-free breakfast, gluten-free pizza, a sweet treat, and much more.

Paradise Cafe

Some of the most popular breakfast and lunch items at Paradise Cafe in Crested Butte are either gluten-free or available in gluten-free versions. Examples include all of the pancakes, which can be made with Pamela's gluten-free pancake mix instead of classic buttermilk or buckwheat. Many of the hearty, savory items can become a gluten-free breakfast by substituting gluten-free toast for the standard bread options. The same is true for some of the lunchtime sandwiches. Adding to the appeal of Paradise Cafe are tempting beverages like milkshakes, smoothies, bloody Marys, and more than a dozen creative coffee confections.

Mikey's Pizza

Mikey's Pizza in the heart of Crested Butte offers delivery and pickup as well as on-site dining. The New York-style pizzeria opened in 2007 and is a locals' favorite – especially among the gluten-free Crested Butte crowd. Its signature hand-tossed, thin-crust pizzas are available with a gluten-free crust. There's a 9-inch gluten-free pizza crust available for the specialty pies, and a 12-inch version for build-your-own-pie orders. The latter offers a comprehensive list of veggie, cheese, and meat choices for a totally custom gluten-free pizza creation. Some of the salads are gluten-free as well.

Secret Stash Pizza

Gluten-free diners in the mood for pizza have even more restaurant options in Crested Butte, including the popular Secret Stash Pizza. Note the disclaimer on the menu stating that items marked gluten-free do not include gluten in their recipes, but the kitchen is not 100% gluten-free. If you're comfortable with that, opt for one of several gluten-free salads or the 12-inch gluten-free pizza crust, available for specialty and build-your-own pizzas. The custom option presents an astounding 40-plus topping options in addition to nine cheeses and seven sauces, including vegan options. Also check out the lengthy drinks menu, which stars a signature sangria and an array of frozen margaritas.

Sherpa Cafe

With its owners originally from Nepal, Sherpa Cafe specializes in the cuisines of Nepal, Tibet, and India. These are cuisines readily adaptable to gluten-free diets, as demonstrated by close to half of the main dishes on the menu being marked as gluten-free. Vegetarian and vegan options are abundant as well. Most of the curries are designed to be further customized with a choice of vegetables or protein, such as chicken, lamb, tofu, or paneer. Testament to its popularity, Sherpa Cafe has two locations in the vicinity of Crested Butte Mountain Resort: one in the town of Crested Butte and the other in nearby Gunnison.

Montanya Distillers

Gluten-free diners are accustomed to thinking outside the box. Maybe it's not so surprising, then, that one of the best gluten-free restaurants in Crested Butte is actually the tasting room of a rum distillery. The story of Montanya Distillers even started with its founder's search for a Celiac-safe libation. She fell in love with aged rum, and later brought her award-winning craft distillery – plus cocktail bar and tasting room – to downtown Crested Butte.

The food menu available at the tasting room is declared 100% gluten-free. It features small plates, platters, and cheese and charcuterie boards, along with several dessert options. Note that all are welcome in the tasting room, but the location is designed for a rum and cocktail tasting and education experience.

McGill's at Crested Butte

McGill's at Crested Butte, a casual, diner-style eatery, is open for breakfast and lunch in downtown Crested Butte. Choose table seating or grab a seat at the counter to watch the chefs at work in the open kitchen. Gluten-free items feature on the all-day breakfast menu as well as the lunch menu. Choose classic egg dishes with a side of gluten-free toast, or order the gluten-free pancakes. Double-thick shakes and malts are a nostalgic McGill's specialty.

Bonez Tequila Bar and Grill

Bonez Tequila Bar and Grill, open for lunch, dinner, and happy hour, is one of the liveliest gluten-free restaurants in Crested Butte. Its large, lofty dining room is adorned with Mexican folk art, and there's a full bar with a huge collection of tequilas. The food menu presents an eclectic take on Mexican classics with bold flavors. Look for the gluten-free icon on the menu, which marks approximately half of the appetizers and mains. Examples include various enchiladas made with corn tortillas and house-made sauces. Most of the bowls, with a base of black beans, rice, and choice of proteins, are also gluten-free.

The Eldo

With its partially gluten-free brewery menu, count The Eldo Brewpub and Venue among the options for gluten-free restaurants in Crested Butte. This locally owned and operated craft brewery in historic downtown Crested Butte serves its own beers on tap and incorporates a live music venue. It also offers an unexpected food menu starring Himalayan cuisine. Look for the gluten-free icon next to various menu items. These include flavor-packed curries like vindaloo, korma, and saag, all with a choice of proteins.

Pitas in Paradise

It could be surprising that one of the best gluten-free restaurants in Crested Butte is named for a wheat product. Yet, Pitas in Paradise, with locations in Crested Butte and Gunnison, includes a comprehensive array of gluten-free items on its Mediterranean-inspired menu. Items marked as gluten-free include several salads with add-ons like gyro meat, pulled pork and falafel, along with all the rice bowls (if you skip the side of pita bread). The restaurant offers indoor and patio seating, along with sports on the big screens above the bar.


Ready to Explore Gluten-Free Crested Butte Dining?
Vacation plans for gluten-free visitors often require some lengthy research into dining options, but Crested Butte's inclusive restaurant scene makes that easy. Along with making plans for
dining at Crested Butte Mountain Resort
, take a look at the amazing lodging and activity options at this delightful destination.