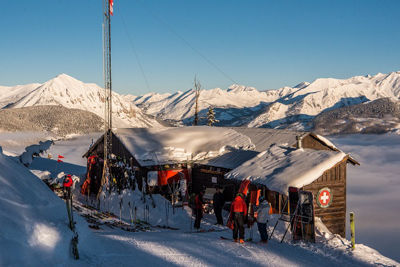 Be Safe On The Mountain
Crested Butte Mountain Resort is committed to your safety on the slopes because we understand it is an important part of enjoying your trip! Know the Responsibility Code and remember, you are responsible, so ski or ride with care.
Previous tab
Previous tab
Your Responsibility Code
Skiing and riding can be enjoyed in many ways. At ski areas you may see people using alpine skis, snowboards, telemark skis, cross-country skis or other specialized equipment, such as that used by disabled skiers. Regardless of how you decide to enjoy the slopes, always show courtesy to others and be aware that there are elements of risk in skiing and riding that common sense and personal awareness can help reduce. Observe the code listed below and share it with others for a great on-mountain experience. Know the code!
1. Always stay in control. You must be able to stop or avoid people or objects.
2. People ahead or downhill of you have the right-of-way. You must avoid them.
3. Stop only where you are visible from above and do not restrict traffic.
4. Look uphill and avoid others before starting downhill or entering a trail.
5. You must prevent runaway equipment.
6. Read and obey all signs, warnings, and hazard markings.
7. Keep off closed trails and out of closed areas.
8. You must know how and be able to load, ride and unload lifts safely. If you need assistance, ask the lift attendant.
9. Do not use lifts or terrain when impaired by alcohol or drugs.
10. If you are involved in a collision or incident, share your contact information with each other and a ski area employee.
Winter sports involve risk of serious injury or death. Your knowledge, decisions and actions contribute to your safety and that of others. If you need help understanding the Code, please ask any ski area employee.
Sliding Devices On-Mountain
Devices Allowed On-Mountain

Devices

NOT

Allowed
Skis
Allowed with a working brake binding system or a retention device

Snowskates

Not Allowed
Snowboards
Allowed with full ankle bindings or retention device
Plastic Snowboards

Not Allowed

Telemark Skis
Allowed with a retention device or a working brake system
Sleds/Discs

Not Allowed

Monoskis
Allowed with a working brake system or retention device
Toboggans/Tubes

Not Allowed

Snowblades

Allowed with a retention device

Ghosky

Not Allowed

Snowdecks

Allowed, but must have metal edges and a leash

Airboard

Not Allowed

Snowshoes

Allowed on designated Daytime Uphill Route only

Bodysled

Not Allowed

Snowbikes/Snowtrikes


Allowed within certain areas of the mountain. Snow bikers may access all lifts excluding the High Lift T-Bar and North Face T-Bar. Snow bikes are not permitted in any of the resort's terrain parks or runs served by the High Lift and North Face T-Bar Lifts. Both Type 1 and Type 2 bikes are allowed on mountain. (A Type 1 snow bike is one that the guest uses snow blades on their feet while riding. A Type 2 bike is a snow bike that has pegs that the user rests their feet on while snow biking.)





Currently Closed
2022-2023 Uphill Access
Crested Butte Mountain Resort ("CBMR") and the U.S. Forest Service ("USFS") encourage use of public lands. Users should be aware that the public lands comprising Crested Butte ski area are under permit to CBMR by the USFS. While enjoying these permitted lands, users must abide by CBMR and USFS safety policies, restrictions and recommendations.
View Uphill Policy
Drone Policy
Recreational drone use by any guest or member of the public, for any reason, is NOT permitted on or over any Vail Resorts property including Crested Butte Mountain Resort.