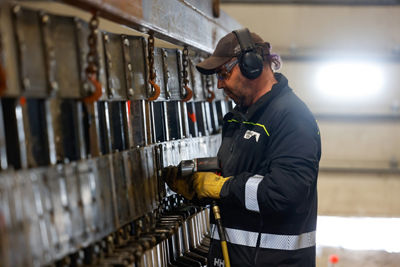 1. Transitioning the Mountain

One of the first things that happens when CBMR closes at the end of winter season is tear-down. Ski patrol removes all ropes and ski signage on the mountain. This is no small task: ski patrol uses enough rope around the mountain each winter to stretch from CBMR all the way to Montrose!

Meanwhile, the lift operations team gathers lift mazes, signage materials, tools, radios and other equipment from the top and bottom of each lift. They take inventory, make necessary repairs and clean the lift operations huts. At the same time, the lift maintenance team begins right away on summer service for our chairlifts.

Our incredible snowcat operators serve a dual purpose in the off-season. Not only do they clear summer service roads so team members can drive on the mountain once the snow melts; they also support every other department by helping to move gear, equipment and people around the mountain.

2. Building Trails

The process of opening biking and hiking trails can change each year depending on the snowpack. After a winter like the 2022/23 season, with over 325 inches of snowfall, getting these trails open involves a lot of snow removal! Snowcat operators facilitate snow clearing in the larger, more accessible areas of the bike trail network. A few weeks later, easily accessible areas in the trees get the same treatment with a mini excavator. Finally, our trail crew members use shovels to manually remove remaining snow. After that, it's a waiting game as the dirt dries.

Once the ground dries, our bike park team members start raking trails and shaping features that need attention. Bike patrol begins their work installing ropes and signage for the mountain's trail system and checking all trails before we welcome guests for summer.

3. Vehicle Maintenance

In addition to preparing our summer vehicles for operations, CBMR's vehicle maintenance team spends the off-season preparing our winter vehicles for next year! As the ski and ride season ends, they assess each snowmobile and snowcat to determine whether any services or replacement parts are needed, order parts and schedule the vehicles for service later in the season.

Once snowcat operators have finished rebuilding roads for summer operations, vehicle maintenance team members remove and rebuild the tracks from each snowcat and provide other routine and necessary maintenance.

Then it's time to break out the summer supplies! The vehicle maintenance team assesses our fleet of ATVs, trucks and trailers to determine whether anything needs to be fixed or parts need to be ordered. They begin repair work with vehicles that will be needed first. Once the snow melts, snowcats and snowmobiles are sent to the garage, and ATVs and trucks become crucial for transporting team members around the mountain to complete their off-season projects.

4. Preparing Buildings for Summer

The off-season is one of the busiest times of the year for Crested Butte's building maintenance team members! With facilities no longer open to guests seven days a week, they have the opportunity to tackle some bigger and more strategic projects that would otherwise impact daily operations. This includes inspections and preventative maintenance on wastewater pumps and tanks, replacing plumbing vents and rebuilding plumbing lines, and remodeling projects at our dining locations. They also perform big seasonal projects, such as setup and takedown of the event complex at Ten Peaks.

In addition, the building maintenance team is still on call for emergencies and other necessary repairs. And of course, all of Crested Butte's on-mountain facilities and restaurants get a post-season deep-clean.

Transitioning from winter to summer operations requires a lot of teamwork. Good thing we've got the best team members out there! Make sure to lock in your summer pass to enjoy all the mountain has to offer this upcoming season, and we'll see you on the trails.