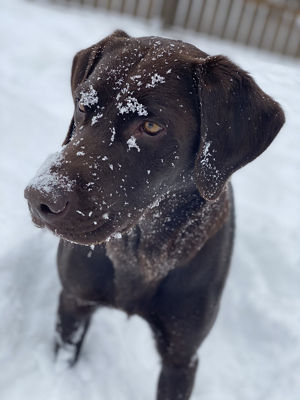 Mac the Avalanche Dog
Train

There is no true "off-season" for avalanche dogs! Summer includes training nearly every day for the newer pups, and a few times a week for the more seasoned rescue dogs. With no snow on the ground to dig up, handlers perform search and rescue drills in the summer by hiding behind logs, under trees, or in piles of brush. All six avalanche dogs and their handlers get together occasionally for group training and socialization in the summer, but otherwise, their training is done one-on-one. Training increases in frequency as winter draws closer, especially for the two puppies currently working toward their certifications.

Avalanche dogs at CBMR are trained not with treats but with tug toys! Handlers start by showing the dog the toy and getting them excited. Then they hide, and tell the dog to search. The pup uses their nose to sniff out the person, dig them up, and play some tug-of-war! As the dog progresses in their training, the toys are involved less and less, until the dog is able to complete the search and rescue without any outside motivation.

The training continues at home, too. Handlers have to make sure they are keeping their commands consistent year-round. For example, "Come" indicates that the dog must run up to the handler and sit directly in front of them. In the summer, if the dog does not sit, it can be tempting to just let it go, but handlers must be disciplined with these commands so that the dog is not confused if/when that command is used in a rescue situation.
Exercise

Avalanche dogs need to be able to work for extended periods of time in extreme cold, deep snow, and high elevation. That requires a lot of physical exertion. In the off-season, it's important that patrol dogs keep up their fitness so that they can continue to perform at their best when the time comes. They go on regular walks and accompany their human friends on their summer outdoor adventures, such as hikes and runs (handlers need to keep up their fitness, too!)
Enjoy Life!

Summer is the time for these hard-working pups to kick back and relax. Outside of the continued training, it's their chance to be like every other doge out there! All the avalanche dogs live with their handlers in the Gunnison Valley, and they spend their summers taking full advantage of the outdoor activities the area has to offer, including camping, rafting, and fly fishing. And, of course, getting plenty of love and affection from their handlers.
Want to support the Crested Butte Avalanche Dog Program and our Ski Patrol? Visit one of our retail shops in the base area during your stay and purchase an avalanche dog shirt!