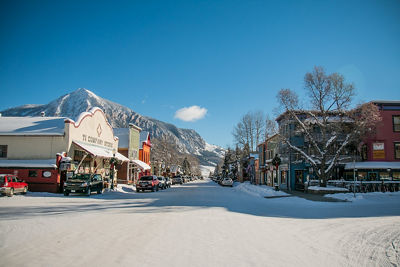 This valley is a special place, and I am so grateful to be here. I am constantly inspired by the work of the many incredible organizations across this community: to address food insecurity, to destigmatize mental health, to help our youngest citizens thrive, to make our resort more inclusive of all abilities, and many more important priorities. As a part of this community, it is important to me that we at CBMR do our part to help local nonprofits accomplish their vision.

On March 3, we welcomed leaders from many of these organizations to Crested Butte Mountain Resort for a Community Ski Day, a small way to thank them for their partnership and all they do for our valley. We had a wonderful time learning more about the incredible work they are doing in our community. Making and maintaining partnerships with local organizations and being in service to our community continue to be some of my top priorities.

Through our EpicPromise Community Impact Program, we are able to give back via nonprofit organizations and contribute to the place that gives so much to us. We are excited to give our guests the opportunity to give back as well, through our annual Donation Day, which benefits an organization in the Gunnison Valley. This year's event was last Thursday, March 16! We were thrilled to partner once again with Mountain Roots Food Project, which helps address food insecurities in the Gunnison Valley through food assistance and education programs. Individual donations were met by a $2,500 guaranteed match from the EpicPromise Foundation to help further the important work they do to keep our community members fed. The funds raised will go toward running their food security programs.

We are always working to find new and creative ways to generate support for local nonprofits like Mountain Roots and make a tangible difference in the lives of our community members. From August 2021 through July 2022, we were able to provide approximately $500,000 to organizations across the Gunnison Valley in cash and in-kind grants, as well as our guest donation program.
We were able to help break down accessibility barriers to the ski and ride experience through in-kind contributions to the Adaptive Sports Center of Crested Butte.
Our contributions to the CB Snowsports Foundation help to ensure that more children in the valley can know the joy of skiing and riding.
We are proud to help our community members with therapy scholarships through the Crested Butte State of Mind, and to work with them, alongside other local organizations, on a mental health stigma reduction campaign.
The Gunnison Country Food Pantry uses our funds directly for their school district mini pantry program, which provides on-site meals for students in the Gunnison School District.
Our contributions help Gunnison Hinsdale Youth Services offer many services for free, including youth development programs, family engagement workshops and therapeutic mentoring for children in the juvenile justice system.
We are able to help the Crested Butte Avalanche Center through in-kind donations toward their avalanche forecasting and education programs, financially support KBUT Radio's after-school programs, and help support families fighting cancer in our community through contributions to the Living Journeys Summit Hike and Half Marathon.
It is an honor to be able to support so many organizations that are doing so much to help our community members when they need it most.

Our team members are a vital part of this community, and we want to do our part to support them directly as well. Through our EpicPromise Employee Foundation, we offer grants and scholarships to CBMR employees and their families. From August 2021 through July 2022, we were able to give financial assistance to 13 CBMR team members and their dependents via Employee Hardship grants, Educational Ascent scholarships, and EpicPromise Scholars awards. Since 2019, we have supported CBMR employees and their families with approximately $250,000 to help them navigate difficult times or pursue further education. Our team members are the backbone of CBMR, and I am proud that we are working to contribute to their well-being in a meaningful way.

In addition to giving dollars, we want to take action. We are committed to restoring and preserving the natural land in the Gunnison Valley as part of our Commitment to Zero: a bold goal to achieve a zero net operating footprint by 2030 through zero net emissions, zero waste to landfill, and zero net operating impact on forests and habitat. Since the launch of Commitment to Zero in 2017, our team has restored an acre of forest for every acre permanently impacted by new and expanded operations. We have contributed more than $100,000 toward forest restoration and preservation, as well as trail access projects, through donations to the Crested Butte Land Trust and National Forest Foundation. We also partnered with the National Forest Foundation on a project in the Gunnison National Forest in 2020. And in summer 2022, our team here at CBMR planted a tree in the Mountaineer Square Plaza that can be used each year for our winter celebrations, saving a tree from being chopped down each holiday season.

We are working diligently to reduce the amount of waste going to the Gunnison County landfill. We partner with 3XM Grinding and Compost in Montrose County for our composting program. CBMR composted 21.75 tons of food scraps and compostable packaging during the 2021-22 winter season, bringing the total to about 65 tons of compost since we began the program. Company-wide, we were able to reduce the amount of waste sent to the landfill by 29% from August 2021 through July 2022 — nearly 5 million pounds down from our baseline!

CBMR also introduced a new part-time, seasonal position of Environmental Agent for winter 2022/23. This employee dedicates their time specifically to our Commitment to Zero goals in the Gunnison Valley – helping to keep us on track to reach those goals and generating ideas for how we can further this important work.

Every dollar donated, every tree preserved, and every bottle recycled brings us one step closer to creating a more sustainable environment for all of us who are lucky enough to live, work and play in the Gunnison Valley. I am so thankful to all our employees and guests who are helping us to reach our goals and contribute to this community's success.

Thank you to everyone who participated in Donation Day this year! We're finding a few more opportunities to support local organizations this spring. The Al Johnson Memorial Telemark Race returned for its 49th year this past Sunday, March 19, and all event proceeds benefit the Crested Butte Avalanche Center. On Saturday, April 1, all proceeds from Pond Skim will go to the Crested Butte State of Mind. We are excited to use our events as opportunities to contribute to these organizations and help amplify their important causes. We will continue to find new ways to help this incredible community thrive.
-Tara Schoedinger, Vice President & General Manager at Crested Butte Mountain Resort