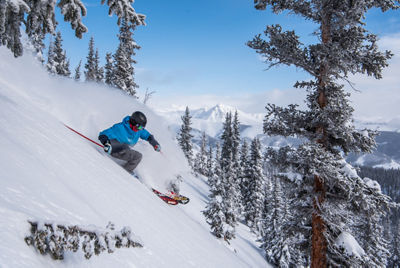 This is the third season in history that Teo 2 has ever opened. How were we able to make this happen this year?
KH: It's a combination of snow conditions, the ability to put an egress road in, support from our great management team to get 100% open, and the resources and people power to make it all come together.
JM: To open any terrain area, we have to ensure that guests and patrol can access, ski or snowboard, and exit the area safely. It takes at least 55 inches of settled snow on the upper mountain stake before we can put in the egress road from Teo 2. Thanks to a huge January with nearly 95 inches of snowfall, the egress road went in better than ever before because we had more snow to work with.
What trainings and certifications are required to be a patroller here?
JM: Everyone we hire is required to be an EMT and a good skier. New patrollers have access to a whole host of trainings: avalanche mitigation and rescue, medical treatment and transport, lift evacuations, and more. I haven't counted all of mine, but I have a whole file full of them, and I know Krista does, too.
KH: We are set up as a ski patrol because that is the most effective mode to access our terrain; it's hard to do with a snowboard. We have constant continuing education and team members who are certified in specialized areas such as lift evacuations and search and rescue. It can get pretty extensive depending on the level of certification a patroller is seeking.
How did each of you gain your expertise in snow safety?
KH: I gained most of my expertise right here in Crested Butte! I went to school at Western State, and, after graduating, got a job on patrol. That is when I began the process of hands-on learning and working toward certifications. Pursuit of excellence in this field has taken my entire lifetime so far, and I'm still learning!
JM: When I first arrived in Crested Butte, I never thought I'd stick around. The plan was to put in a year or two as a ski bum, then get my Master's and move on to different things — but I just couldn't get the bug out of my system. I applied to patrol school in the winter of 1996-97, and Krista was one of the people on the interview committee! I was hired onto patrol the following winter, at which point I started getting more professional snow safety training.
Prior to joining patrol, I had had the unfortunate experience of being caught in an avalanche in the backcountry, and that was a huge turning point for me. I had really thought I had my act together. I'd taken several avalanche safety courses and was reading every book you could buy. The incident shook my confidence and made me want to take snow safety seriously.
A few years into my career, I spent seven years at Silverton Mountain – during five of which I served as assistant snow safety director. That role was like a snow safety bootcamp. Avalanche mitigation was all I did every single day, all day, all season. It forced me to think differently about how to manage snow, and I learned a ton. When I decided to return to Crested Butte, I spent a couple years running avalanche mitigation routes, and my level of responsibility has incrementally ratcheted up over the years.
Can you explain what an avalanche mitigation route is?
KH: An avalanche mitigation route is a sector of terrain that we have assigned patrollers to monitor and manage. They assess the terrain, specifically snow conditions and stability, and decide whether ski cutting or explosive avalanche mitigation work – or both, or neither – is most appropriate before the terrain can safely be opened to the public. We have a sequence of routes that begins with interior main mountain routes and ends with the farthest routes, which are the Peak and Teo 2.
JM: These routes have a slope angle between 30 and 45 degrees and enough of a start zone to create risk of a slab avalanche. We have a total of 25 routes within our boundaries that we monitor and manage for avalanche hazard.
Can you explain why we don't announce initial terrain openings before they happen?
JM: Initial opening of avalanche terrain cannot be taken lightly, and we approach it with great care. In addition to snow-related hazards, too many skiers on a newly-opened slope can lead to an unsafe situation. That is one of the reasons we do not announce initial terrain openings before they happen. Also, skier compaction is an important part of setting up a stable snowpack for a great season. By not committing to a date and time for terrain openings, we are able to stagger guest entry onto the terrain, minimizing risk and maximizing the positive effects of skier compaction to decrease avalanche hazard and set us up for success. This is especially true in the early season, but it is a factor any time we are opening terrain for the first time in a season, or reopening it after a big storm.
KH: Not announcing also relieves the pressure a deadline that could change based on conditions. Every day, there is a 100% chance of weather — whether that's sunny and warm or snowy and windy. If we were to commit to a date and time for our terrain openings, we would do ourselves a disservice by not opening it when we're ready, or by opening it too soon when we're not ready.
-Tara Schoedinger, Vice President & General Manager at Crested Butte Mountain Resort