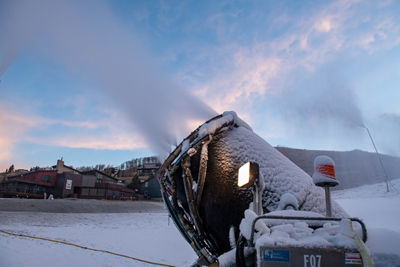 A sure sign of winter: the snow guns are on! Snowmaking got underway at CBMR on Oct. 23, kickstarting the process for getting the first runs ready for Opening Day. Snow guns separate water into fine droplets and move them through cold air, causing them to freeze into small snow crystals on their way down to the ground.
In the winter, ski slopes serve as cold storage for water, much like a frozen reservoir. In the spring, the gradual melting benefits the watershed and water supply; a majority of the water used in snowmaking returns to the watershed.

Have you ever wondered how the snowmaking process works in Crested Butte? We're breaking it down, by the numbers.
282

Our snowmaking operations cover 282 of Crested Butte's 1,547 skiable acres. That consists of much of the resort's green and blue terrain, as well as a few black diamond runs. Snowmaking spots include the areas near the Peachtree lift and the top of Silver Queen Express, as well as trails like Lower Treasury, Lower Twister, Paradise Bowl, Upper Ruby Chief, Forest Queen, International and Upper Keystone, just to name a few.

So what about the other 1,265 acres? Nearly two-thirds of the terrain at CBMR is rated as advanced or extreme. Most of our extreme terrain is either surrounded by trees and cliffs or left ungroomed during ski season. Man-made snow is very dense and contains less air than natural snow, which keeps it from compacting under the weight of a snowcat as natural snow does. As a result, man-made snow performs best when it's groomed. In addition, adventure-seekers heading to extreme terrain typically aren't looking for groomers.
60

Typically, snowmaking runs from around Nov. 1 to Jan. 1, which means the team is at work for 60 days, give or take, as they work to cover 282 acres --along with help from Mother Nature. Our team makes sure there is enough snow to create an 18-inch base on each snowmaking area before moving on to the next location. The snow cats then work to evenly disperse the piles across the run.

Once an 18-inch base is established on our snowmaking runs, our snowmakers shut down the snow guns for the season and put the equipment away until the following winter. Mother Nature continues her good work from there.
27

It needs to be a maximum of 27 degrees or colder outside for snowmaking to be effective, and we're not talking about your standard Fahrenheit; snowmaking conditions are based on the wet bulb temperature, which combines the air temperatures with humidity. Unless humidity is at 100%, the wet bulb temperature will always be lower than the air temperature, which is why you'll sometimes see snow guns running even when the air temperature is above freezing.

27 degrees wet bulb is the max, but the colder it is, the better! That's because of the way the snowmaking process works: it blasts water droplets with compressed air to break them up into tiny particles that will freeze as they fall to the ground. In super cold temperatures, compressed air is not needed, because it is cold enough that the water droplets will freeze without being broken up. And we get plenty of cold days here -- it's part of what makes Crested Butte such a great ski destination!

Of course, there is a minimum viable temperature for operating snowmaking equipment (as well as our snowmakers!), so optimal snowmaking temperatures fall between 8 and 14 degrees.
Now that snowmaking has begun, we are full steam ahead with Opening Day preparations! Make sure to get your pass if you haven't already, and we'll see you on the slopes Nov. 23.