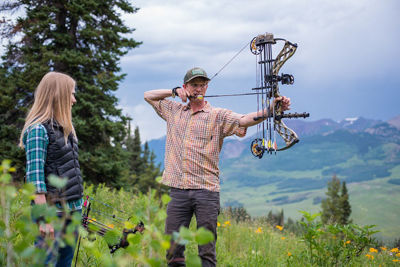 The course was established at CBMR in 2015, a designated area to keep archers separate from bikers and hikers. Guests can hike to the course or ride Red Lady Express to the sight-in range. The course loop covers approximately 1.5 miles and returns archers to the top of the chairlift when they're done. From there, archers can download to the base area or hike back down.

For summer 2023, the 3D archery course is open daily from 9:00 am to 5:00 pm through September 4 and will remain open on Saturdays and Sundays through September 24, weather permitting.

All archers must bring their own equipment and sign a summer activities waiver before they begin. Waivers are available at the Treasury Center Ticket Office in the base area or at the top of the sight-in range. The course is free; however, donations are welcome to support further archery efforts in our area. Donations may be deposited at the pay tube at the sight-in range.

Whether you plan to take your archery abilities to the field this fall in search of wild game or just want to keep score with your friends, now is the perfect time to hone those skills. Choose your target, draw back, breathe, and release.