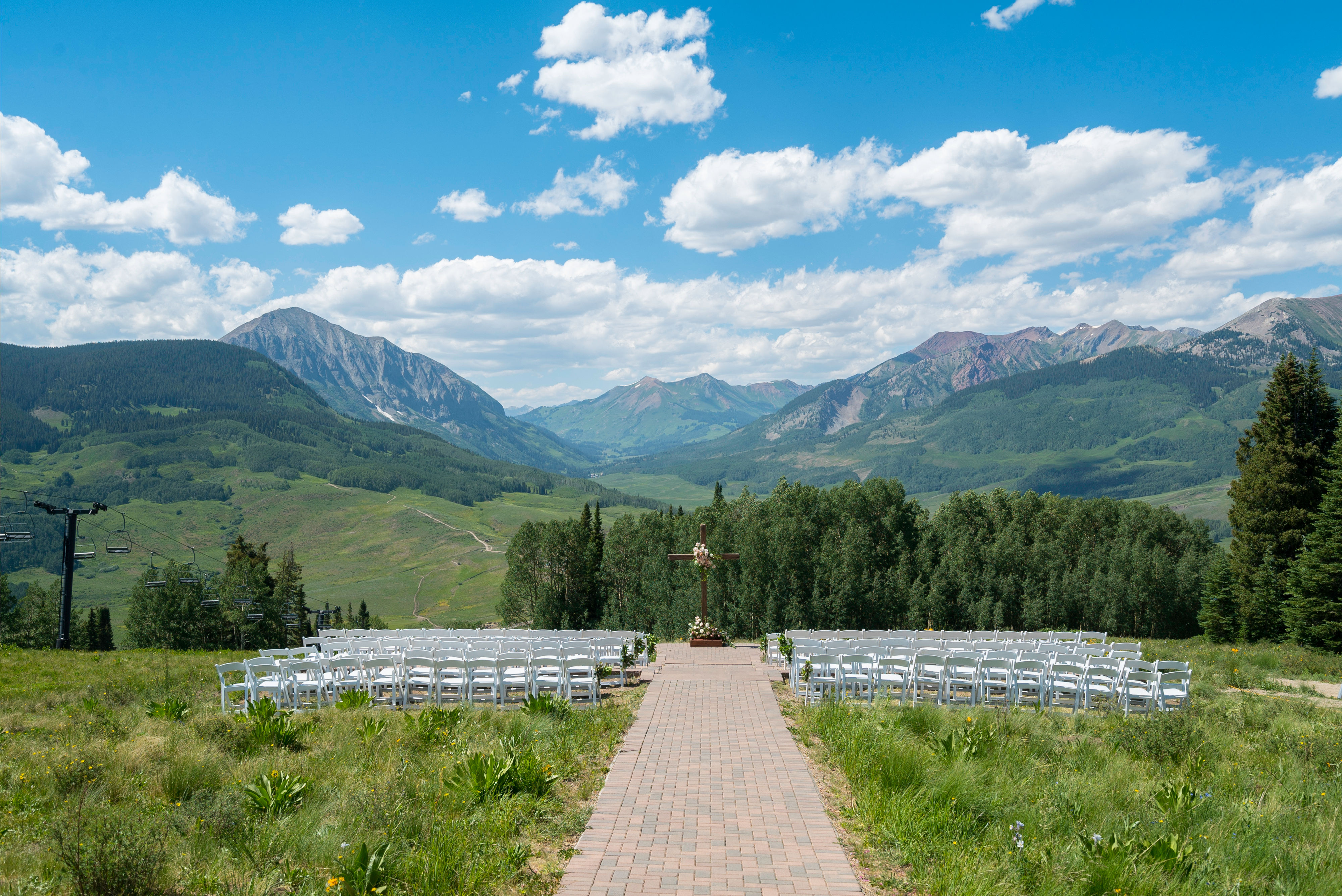 What is unique about your ceremony location(s)?
When you host your
wedding in Crested Butte
, you and your guests will immediately feel the difference that sets Crested Butte apart from other mountain locations. With no traffic lights or chain stores and people who openly celebrate life every day, the genuine nature of the community and the pristine surroundings immediately capture you.
Crested Butte Mountain Resort's majestic setting in the Colorado Rocky Mountains beside the 12,162 ft. peak of Crested Butte Mountain sets a stunning scene for your special event. Whether you are hosting a formal wedding for 50 guests or a casual event for 500, our venue offers something for everyone. The spectacular views from our on-mountain ceremony sites combined with unique reception venues, a professional catering staff, and first-class lodging offer you everything you need to create your one-of-a-kind celebration.
Here, your wedding won't be just about a visit to another mountain town. It'll be about being away from your other world, finding adventure in an unspoiled setting surrounded by majestic peaks, wide valleys, and being connected to the culture and lifestyle that is Crested Butte.
Maximum number guests?
Up to 500
What's included with site rental?

When you choose Crested Butte Mountain Resort as your event location, your Wedding Sales Manager will assist you with many of your planning details including menu selection, logistics, timing, and lodging setup, while providing you with options for your rehearsal dinner or welcome party, post-wedding brunch, and information regarding resort activities.
What time of year is your venue exceptionally gorgeous?
Summer, of course! Crested Butte is known as the "Wildflower Capital of Colorado," so starting in June the natural landscapes around our wedding venue abound with all kinds of wildflowers like lupine, larkspur, columbines and wild roses, which add natural beauty to your event. There's a saying in the mountains: "I came for the winter, but I stayed because of the summer." Come summer time, the trails, rivers and peaks surrounding Crested Butte explode with a bevy of activity. Fishing, hiking, mountain biking, kayaking, golfing, or basking in the Colorado sun are just a few of the things that you and your guests can enjoy while you are here.
How far in advance should a couple book their venue?
At least one year in advance.
Interesting or fun facts about your venue?
Come summer, our resort also operates a full-service
Adventure Park
. Enjoy scenic chairlift rides, Rock Climbing, Bungee Trampolines, the Tin Cup Mining Company, and more. The Adventure Park is located in the base area and is fun for the entire family.