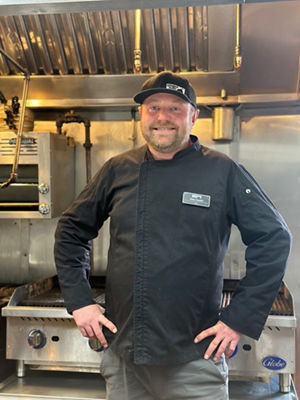 Chef Alex in the Butte 66 kitchen
Winter 2023/24 will be Alex Caukin's third season as Executive Chef for The Treasury Center, which includes Butte 66 Bar & Grille, Rooster Run and Coal Breaker Coffee Co. With three kitchens to run, he's busy before, during and after ski season. We sat down with Chef Alex to learn more about what it's like to be a chef at a ski resort.

Chef Alex's days look different at different times of year. One of the biggest differences between ski resort restaurants and other restaurants, Chef Alex says, is the seasonality. Ski and mountain biking seasons are very busy, and service is the team's top priority. During the offseason, when resort restaurants are closed, Chef Alex has a chance to rework his menus, elevating and improving selections for the coming season. For winter 2023/24, Butte 66 will continue to serve up favorites such as smoked wings and pulled pork and will add a variety of dishes including an elk bratwurst, a mushroom Swiss chicken sandwich and spinach dip.

During the season, Chef Alex starts his day at 8:00 am, firing up the ovens, fryers and grills at Butte 66 and Rooster Run and starting stock for the soups of the day. He makes a prep list for his staff and, once team members arrive and begin prepping, places and receives ingredient orders.

Before the 11:00 am lunch service begins, Chef Alex holds a staff meeting to review the menu and soup of the day, and to share wins and opportunities from the previous day. Then, it's off to the races! The lunch rush is typically over around 2:30 pm, at which point team members begin to take their breaks. Most team members, Chef Alex included, ski on their break. He says it's one of his favorite parts of being a chef at a ski resort.

Next come preparations for happy hour service, which begins at Butte 66 at 3:00 pm For winter 2023/24, Butte 66 is offering deals on après hits such as loaded fries and chips and queso, as well as cocktail specials and $4 draft beers. To get ready for happy hour service, Chef Alex's team must "flip the lines," which involves the swapping out of ingredients, pans and other kitchen items to accommodate the new menu. At the same time, team members start prep work for the following day. While many ingredients, such as fresh fruits and vegetables, must be prepped the day-of, other items can or even need to be prepared in advance, such as the smoked pulled pork, which goes in the smoker at 4:30 p.m. and doesn't come out until 9:30 a.m. the next day. Fun fact: our smoker can hold up to 300 lbs of pork at once!

Also during this time, team members at Coal Breaker share with Chef Alex all the ingredients they need prepared for the following morning. Because Coal Breaker is open for breakfast, the team makes sure they have everything prepared to execute service the following morning. Chef and his staff prep all the ingredients that will stay fresh overnight and make a note to prepare the rest of the ingredients first thing in the morning.

Throughout the entire day, Chef Alex monitors service to make sure food is served promptly and cooks are keeping up with tickets. He says it's like being the quarterback of a football team or the conductor of an orchestra, making sure every player is in position and performers are keeping time with one another.

Through it all, Chef Alex says his favorite part of his job is the people he works with. He loves the new skills he can learn from his fellow chefs, the growth he sees in his kitchen colleagues from season to season, and the enthusiasm that his international team members have for Crested Butte. He grew up visiting Crested Butte as a child and moved to the area permanently in 2020 because "You can't help but have a smile on your face when you live in the most beautiful place on earth."

People who are interested in joining the Crested Butte Mountain Resort food and beverage team can apply online. For restaurant hours and locations, please visit our website.