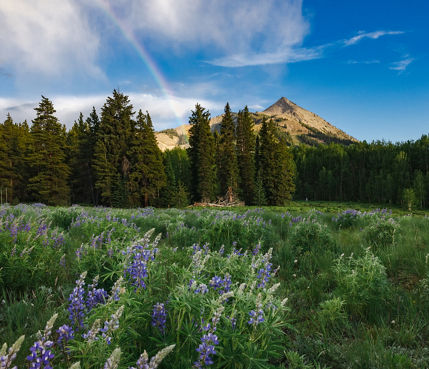 At Crested Butte Mountain Resort, each season introduces a new lineup of outdoor adventures. In late spring and early summer, melting snowpack feeds several local rivers, making Crested Butte rafting trips a popular seasonal excursion. Most guided river rafting tours near the resort are suitable for families and beginners. However, you can choose more challenging runs if you're looking for bigger thrills. Tours range from a few hours to a full day of splashing, paddling, and taking in the gorgeous river and canyon scenery.

Book a Crested Butte river rafting tour that suits your style, and get ready for an unforgettable time!


Rivers for Rafting Near Crested Butte
There are two rivers used for guided rafting in Crested Butte: the Taylor and the Gunnison. Families, beginners, and anyone seeking a serene float trip should consider a rafting trip on the Gunnison River. These tours depart from Almont, Colorado, just 20 miles south of Crested Butte Mountain Resort.
Expect Class I and II rapids along the upper section of the Gunnison. This kind of whitewater offers plenty of fun splashes, bumps, and excitement while keeping the adrenaline level in check. The lower section features Gunnison Whitewater Park, which includes rapids and drops. Check which sections are included in your rafting trip if you wish to include (or avoid) this type of entry-level thrill.
The Taylor River runs for 22 miles from the Taylor Park Dam to Almont, where it joins the East River to form the Gunnison. Because it's a dam-controlled river, the flow is consistent and offers the longest season of rafting near Crested Butte (May through September). The Lower Taylor ranges up to Class III, which is exciting but beginner-friendly. Experienced rafters and thrill-seekers should check out guided tours on the Upper Taylor River. This section has steep drops and sustained rapids, among other challenges, and is more intense than the lower river.
If you're unsure which rafting tour is best for you, consult one of the following local Crested Butte rafting companies.
Whitewater Rafting Tour Options near Crested Butte


Scenic River Tours

Scenic River Tours is based in Gunnison and has its Taylor Boathouse Outpost in Almont, making it easy to reach if you're staying at Crested Butte Mountain Resort. The outfitter offers several rafting tours on both the Taylor and Gunnison rivers. All begin with paddling instruction and a river safety briefing and include all the necessary rafting gear. Meet at the boathouse and take a shuttle to and from the river.

Choose from the following Taylor River rafting tours:
Upper Taylor Half-Day: A two-hour tour offered daily, this is a popular choice with plenty of whitewater action and non-stop Class III rapids from the beginning. It's an intermediate-level tour suitable for anyone aged ten and up weighing at least 90 pounds. Enjoy a lemonade stop halfway through, and opt for a one-hour extender to add the Middle Taylor stretch.
Taylor River Full-Day: For a little over five hours, raft the Class III rapids of the Taylor River's exciting Upper, Middle, and Lower Canyons. Bring your own lunch for a mid-tour picnic. This intermediate tour is for anyone ten years old and 90 pounds and up.
Lower Taylor River: A family-friendly rafting adventure, this tour lasts two hours and is suitable for beginners. Participants must be at least eight years old and weigh 60 pounds. You're welcome to bring your own lunch and fishing gear.
Gunnison River Half-Day: This is another family-friendly option for ages three and up. It includes Class II rapids, lasts two to three hours, and is a good choice for beginners. The Upper Gunnison is especially green and scenic, with abundant birdlife.
Gunnison River Full-Day: The longer version of the Gunnison River tour takes at least five hours and includes the exciting rapids of the Gunnison Water Park. Bring your own lunch to enjoy at one of the scenic riverside picnic areas.
Three Rivers Resort & Outfitting

Another local outfitter offering Crested Butte rafting trips is Three Rivers Resort. The meeting spot is in Almont, near where the Taylor and East Rivers merge and create the Gunnison. Shuttles to and from the put-in and take-out spots are included with your tour package.

Guided rafting trips for various experience levels are as follows:
Upper Taylor Initiation to South Bank: This thrilling rafting tour covers Class III and higher rapids for plenty of splashing and action. You will get wet! Everyone is expected to paddle, and the tour is suitable for ages 12 and up. The tour is available twice daily and lasts approximately two hours.
Upper Taylor Extender Initiation to 5 Mile: Extend the Upper Taylor tour to 2.5 hours on the water, with faster stretches, more whitewater rapids, and a serene float through the Middle Taylor.
Lower Taylor 5 Mile to Three Rivers Resort: This tour is recommended for families and welcomes children 30 pounds and up who can walk. It departs twice a day, lasts 1.5 to two hours, and features a few rapids rated up to Class II. A guide handles all the paddling with an oar frame, so just sit back and enjoy the ride.
Lake Fork of the Gunnison: This Class IV whitewater rafting trip is suitable for those with experience or adventurous spirits who can paddle to commands. It's a limited-time tour, usually available until the end of June. The minimum age is 12.
Garlic Mike's Float N Dine Package: This dinner cruise package includes a 10-mile guided float trip down the Gunnison River from Almont to North Bridge, plus vouchers for dining at Garlic Mike's Restaurant. A shuttle service is also included. It's a mellow float available for all ages, including walking children 30 pounds and up.
Kids (7 to 14) can enjoy their own Three Rivers rafting experience through Crested Butte Mountain Resort's Mountain Adventures Program. This adventure-packed summer camp is available from mid-June through August.
Private Rafting Guides from Irwin Guides

For a custom, private rafting experience near Crested Butte, hire a professional guide. Irwin Guides, based in Crested Butte, offers private rafting guides on the Gunnison River. The relaxed float is scenic and mellow, and you may opt to raft the Gunnison Water Park for up to Class III action. Lunch is included. The full-day journey is available from June through August, water levels permitting, and is for anyone aged ten and up. Consider the professional photographer add-on to capture those incredible memories.


Adaptive Sports Center

The Adaptive Sports Center in Crested Butte offers canoe, kayak, raft, and paddleboard adventures for participants with disabilities or special needs. Ask about their full-day Crested Butte rafting tours, which include paddling on Lake Irwin and Blue Mesa Reservoir.

During winter, the Adaptive Sports Center specializes in custom adaptive skiing and snowboarding lessons on Mount Crested Butte.


Ready for a Crested Butte Rafting Adventure?
River rafting near Crested Butte is sure to be the highlight of your summer vacation. Don't forget to check out the other
summer activities
at the resort.
Start planning your vacation at
Crested Butte Mountain Resort
today!