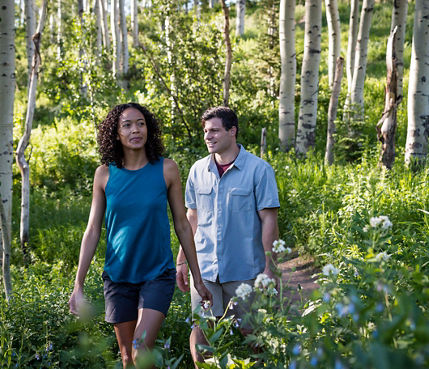 A honeymoon at Crested Butte Mountain Resort is a marvelous way to launch into married life. The spectacular mountain scenery guarantees gorgeous honeymoon photos along with countless awestruck moments to share as a couple.

Some elements of a Crested Butte honeymoon remain the same throughout the seasons – romantic lodging, delicious dining, and all those après-inspired toasts to your brand-new marriage. Fun activities to add to your itinerary will vary by the time of year, from side-by-side snow sports action to sun-drenched outdoor adventures on the summer trails.


Romantic Hotels in Crested Butte, CO
Deciding where to stay for a honeymoon in Crested Butte is usually the first planning step for a soon-to-be-wed couple.
The best hotels for a honeymoon in Crested Butte, CO, depend on your shared desires for amenities, location, and overall vibe. Maybe you want a full kitchen where you can prepare meals together, or insist on a fireplace for those cozy evening moments. A pool and spa are often honeymoon must-haves, too.
There are plenty of excellent lodging options to consider at Crested Butte Mountain Resort, but the following few stand out as top choices for such a romantic milestone.
Elevation Hotel and Spa
The only ski-in, ski-out hotel in Crested Butte is the Elevation Hotel and Spa at the base of Mount Crested Butte. The location makes it an excellent choice for a honeymoon focused on snow sports. However, this is also one of the most popular Crested Butte, CO, honeymoon resorts through all four seasons. Adding to its charm, the resort features a chic, contemporary design, 191 spacious rooms and suites, and on-site dining with a slopeside view.
More amenities that appeal to honeymooners include a heated swimming pool, two hot tubs, and concierge service. Indulge in a couples' treatment at the full-service Elevation Spa. Spa guests enjoy access to three tranquility rooms, a steam room, and a sauna, along with a full menu of beauty and wellness treatments.
The Grand Lodge Crested Butte Hotel and Suites
The Grand Lodge Hotel and Suites is in the heart of the Mount Crested Butte base area, just 200 yards from the slopes and steps from the free shuttle service into town. The romantic tone is set when you check in and see the stone-clad, wood-beam rustic decor and roaring fireplace in the lobby.
Most of the hotel's 228 rooms and suites feature kitchenettes, and you can stock up on drinks, snacks, and grab-and-go meals at the on-site WoodStone marketplace. There's also the WoodStone Grille for lunch and dinner. Spend some downtime in the indoor/outdoor swimming pool and outdoor hot tub or lounge on the expansive pool deck.
The Lodge at Mountaineer Square
The Lodge at Mountaineer Square is a relative newcomer to the lodging scene and one of the best hotels for a honeymoon in Crested Butte, CO. The property offers a wide range of accommodations, from standard hotel rooms to condos with up to three bedrooms. Ask to upgrade to a room with a balcony and beautiful views of the valley.
The hotel's Mountain Square location puts you just a stone's throw from the Red Lady Lift and steps from shopping, dining, and the free town shuttle. However, an indoor/outdoor heated pool, hot tub, and sauna might tempt you to spend your time right there at the lodge.
Activities for a Summer Honeymoon in Crested Butte
A Crested Butte honeymoon during the summer season promises plenty of sunshine and an exclusive lineup of outdoor activities that are perfect for couples. Top among them are scenic chairlift rides on the Red Lady Express and Silver Queen Express. Take in unrivaled, 360-degree views of the mountains and valley as you ride, and then explore the high-alpine landscape at the top of Mount Crested Butte. Go for a short or long hike, and choose one of the resort's best wildflower trails for an especially romantic vibe.
Bike rentals are another popular choice during any honeymoon in Crested Butte. The resort is famous for its Crested Butte Mountain Bike Park, with over 30 miles of singletrack. Newlywed couples with experience or who want to try mountain biking should add that to a honeymoon itinerary. If a more gentle version of biking is more your thing, rent a path bike or e-bike to explore the paved routes around the resort.
A high-thrills whitewater rafting adventure could easily be the highlight of your Crested Butte honeymoon. Several local outfitters offer various guided rafting tours on the Taylor and Gunnison Rivers. These tours depart from Almont, about 20 miles south of Crested Butte Mountain Resort. Tours down the Gunnison River are more suitable for first-timers and anyone who prefers a fun but serene experience. Choose the Taylor River tour for a high-adrenaline ride. Scenic River Tours and Three Rivers Resort are two local outfitters offering this activity.
Crested Butte Honeymoon Fun in Winter
Snow sports are the top reason for booking a Crested Butte honeymoon in winter. Couples with skiing or snowboarding experience can hit the slopes or terrain parks as often as desired. If you want to gain confidence and new skills before doing so, book a lesson at the ski and ride school. Group lessons are available for beginner, intermediate, and advanced levels. Consider a private lesson for two if you have mixed experience levels or just prefer some newlywed seclusion.
Beyond downhill runs, there are even more winter activities available at the resort and throughout the wider Crested Butte area. Rent snowshoes or Nordic skis from the Crested Butte Nordic Center to explore more than 34 miles of groomed trails. The center also offers lessons and backcountry tours, including one that ends with dinner and drinks in a heated yurt.
Consider snowmobile tours offered by local outfitters such as Action Adventures Snowmobiling. Various itineraries are available for group or private tours. Share a snowmobile for two, and you can take turns driving.
More Crested Butte Honeymoon Ideas
Don't miss the chance to raise a toast to your new spouse at the Umbrella Bar at Ten Peaks. Its mid-mountain setting promises panoramic views of the resort, and the bar is open all year round. Various ways to get to the Umbrella Bar, including hiking and biking via different routes, turn an après quest into more of an adventure.
Spring and fall each offer their own exclusive activities for a Crested Butte honeymoon. During the early and late ends of the ski season, you can go fat biking thanks to uphill trail access during select times. Don't miss the chance for gorgeous, endlessly photogenic leaf-peeping in the fall.
At any time of year, honeymooners simply must take a romantic stroll down Elk Avenue with its colorful Victorian storefronts. Also, explore the National Historic District, one of the largest in Colorado.
Ready to Book a Crested Butte Honeymoon?
Explore lodging, activities, dining, and more vacation ideas perfect for your honeymoon at Crested Butte Mountain Resort.