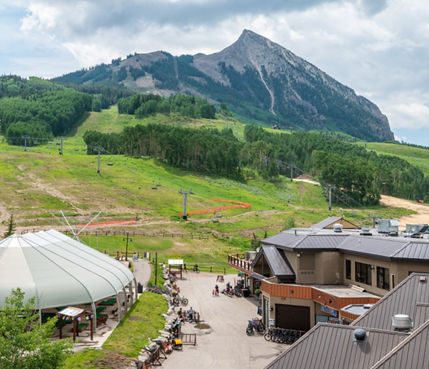 Playing a high-altitude round at a Crested Butte golf course in Colorado is unforgettable. Drives fly noticeably further than they would at sea level, soaring in slow-motion arcs against a striking mountain panorama. Golf enthusiasts visiting Crested Butte Mountain Resort are in for a treat. There are two 18-hole courses within an hour's drive, and both are exceptional in quality, scenery, and overall experience.

For golfers visiting Crested Butte, playing 18 (or nine) holes at one of the local golf courses is the highlight of their summer trip. Stunning views, challenging courses, and a variety of terrain and features to choose from make for a relaxing and enjoyable golfing experience. With something to offer golfers of all skill levels, the golfing season typically runs from late May through October. Book a tee time, bring your clubs, or rent a set at the course, and get ready for a memorable round at one of these courses in the area.

The Club at Crested Butte

The Club at Crested Butte, just 5 miles south of Crested Butte Mountain Resort, is a renowned championship course designed by Robert Trent Jones II. In 2022, Golf Digest called it one of the best courses you can play in Colorado. This celebrated local course dates to 1984 and is semi-private, welcoming non-members to book a limited number of tee times between 11:30 a.m. and 2:30 p.m. Rates include a golf cart and practice balls, and guests with a tee time enjoy access to the practice facility. Club rentals are available. Call the clubhouse seven days before booking a tee time and look forward to a refined country club atmosphere and an impeccably manicured course.

The 18-hole, par-72 championship course is moderately challenging, with a course rating of 73.0 and a slope rating of 135. Choose from four sets of tees for a custom Crested Butte golf course experience. Robert Trent Jones II said he designed The Club at Crested Butte to "echo the surrounding landscape," with fairways and greens winding along Lake Grant and around aspen groves. The course covers relatively flat terrain in contrast with the breathtaking Rocky Mountain backdrop, and early-season golfers get to play the course while it's surrounded by wildflowers.

After a memorable round of golf in Crested Butte, head to the dining room and bar at the clubhouse and soak up the amazing views from its large deck.

Dos Rios Golf Club

Dos Rios Golf Club is just to the west of downtown Gunnison, approximately 45 minutes by car from Crested Butte Mountain Resort. The 18-hole, par-71 course is open to the public and a popular destination for golf near Crested Butte. It's a regular tournament host for local clubs during the open season for golf in Crested Butte, typically from April through to the end of October. The prime season is from mid-May to mid-September. Call or book online for a tee time up to seven days in advance. Carts are included with every round. Golf lessons with Dos Rios Golf Club's PGA staff are also available.

The par-71 course covers 6,566 yards, with four sets of tees offering a rating from 62.0 to 69.6. The course offers scenic, fun play for all skill levels. Water hazards on 17 holes plus tricky sand traps keep even the most experienced golfer on their toes. This course is located near Crested Butte in Gunnison and features a well-stocked pro shop and a bar and grill which hosts a daily happy hour.

More Colorado Golf Courses

Visitors who want to play golf in Crested Butte might expand their options to Colorado courses further afield. Driving 2 hours or more for a round of golf at a top-notch course isn't unheard of, and it might work with some itineraries. For example, if you are enjoying a road trip around Colorado, consider fitting in a tee time on your way to or from Crested Butte Mountain Resort.

Two golf courses are around 2 hours by car from Crested Butte: The Links at Cobble Creek Golf Club in Montrose, and Collegiate Peaks Golf Course, a nine-hole course in Buena Vista. In the vicinity of Aspen, 100 miles from Crested Butte, is Aspen Golf Club. The 18-hole municipal course is a certified Audubon sanctuary.

Play Virtual Golf in Crested Butte at Birdie's Golf Bar

In addition to Crested Butte's golf courses, consider stopping in at Birdie's Golf Bar in the heart of the town. The sports bar offers Showdown Golf, an indoor simulation space where you can play a virtual round at more than 100 world-class courses. Take your pick from renowned clubs all over the globe, such as the Old Course at St. Andrews, Kapalua Plantation in Hawaii, Royal Melbourne Golf Club, and TPC Sawgrass.

Walk-ins are welcome to play, but it's a good idea to book a tee time online in advance. Club rentals are available or you may bring your own, and you can drink and dine from the sports bar's full menu as you experience a virtual round of golf.


Plan Golfing on Your Visit to Crested Butte
While you're planning a vacation at
Crested Butte Mountain Resort
, consider making a tee time at one of the Crested Butte golf courses. A round of golf amid stunning mountain scenery will be an unforgettable highlight of your stay in Crested Butte.