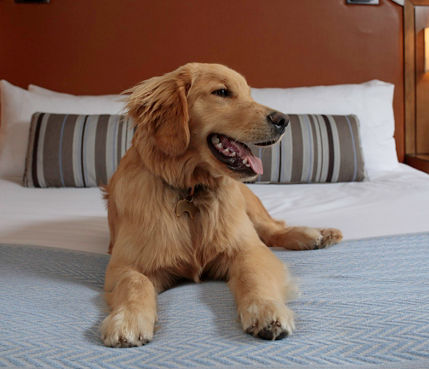 Bringing your best friend along on a trip is always a treat. Choosing a destination like Crested Butte Mountain Resort is even better for a dog-inclusive vacation. Crested Butte's dog-friendly options for lodging, patio dining, and year-round activities make it an enticing outdoor playground for pets as much as for human visitors.

Taking the dog for a walk is an amazing adventure, thanks to Crested Butte's dog-friendly hikes. Your morning coffee run or evening après will be elevated into a memorable moment by sharing a spot on one of Crested Butte's dog-friendly patios. You already know that most recreational activities are better with your dog along for the ride. So, enjoy the best of Crested Butte with a leash in hand — here's how.


Crested Butte's Dog-Friendly Hotels
In Crested Butte, dog-friendly hotels are easy to find and book with just a little additional research into pet policies. Expect to pay a small non-refundable pet fee, and always let the property know in advance that you will be bringing your dog.
The following are some of the best options among Crested Butte's dog-friendly hotels.
The Grand Lodge Crested Butte Hotel and Suites
Select rooms and suites at
The Grand Lodge Crested Butte Hotel and Suites
are available for guests with pets. Advanced notice that you'll be bringing a dog is required, along with a small fee. This expansive property features 228 rooms and suites, most with kitchenettes. Onsite amenities include a health club, laundry room, sit-down restaurant, and grab-and-go marketplace.
Gateway Condominiums
If you prefer a condo rental over one of Crested Butte's dog-friendly hotels, consider
Gateway Condominiums
. The slopeside setting is near the Peach Tree Lift, and the condos boast stunning views down the valley. Units with one, two, or three bedrooms are available, all with fireplaces, full kitchens, washers/dryers, and private balconies.
The units are privately owned, so rules may vary, but the property's
pet policy
allows guests to bring dogs. You may not leave your dog unattended on patios, balconies, or in public areas; they must be leashed in public areas.
Elevation Hotel and Spa
Elevation Hotel and Spa
is a ski-in, ski-out property offering 191 spacious rooms and suites. Guests may bring up to two pets per room, with an 80-pound weight limit for each pet. Let your booking agent know you are bringing pets, and also mention your pet guests upon check-in. You may not leave pets unattended in your guest room.
Notable amenities at this Crested Butte dog-friendly hotel include a full-service spa, sauna, steam room, swimming pool, and two outdoor hot tubs. There's also a restaurant on site specializing in modern Mexican cuisine. Chat with the concierge about dog-friendly activities and attractions in the local area.
The Ruby of Crested Butte
Adding to the diversity of Crested Butte's dog-friendly hotels is
The Ruby of Crested Butte
, a luxury bed and breakfast in the heart of town. The B&B welcomes dogs with zero additional fees. It also offers dog amenities, including dog beds, blankets, food and water dishes, and homemade dog treats.
B&B guests enjoy access to an indoor hot tub room, gourmet tea, and coffee station, two cozy living rooms, and a back garden with mountain views. A country-style breakfast and afternoon wine gatherings in the Mountain Room are included with every stay.
Crested Butte's Dog-Friendly Restaurants


While some of Crested Butte's dog-friendly hotels feature kitchenettes or full kitchens, there's no need to avoid dining out with your pet. Some of the best restaurants in Crested Butte have dog-friendly patios, although the climate does limit these to a seasonal feature.

Butte 66

One of the ski resort's most popular eateries – Butte 66 – has a massive patio with unrivaled views of Mount Crested Butte. Bring your pooch as a tableside companion while you enjoy casual lunch and dinner options, including best-selling BBQ dishes.
Thai Chili 78

Thai Chili 78 has three locations in Colorado, a testament to its popularity. The outlet in Crested Butte has a dog-friendly patio, so your pet can join you for pad Thai, drunken noodles, pot stickers, and other Thai favorites.
The Sunflower

The leafy, heated back patio at The Sunflower scores highly among Crested Butte's dog-friendly restaurants. The restaurant emphasizes fresh, seasonal produce sourced from local farms on its frequently changing menus. Everything is made from scratch, and much of the menu is dedicated to shareable small plates and nibbles.

Rumors Coffee and Tea House

Rumors Coffee and Tea House, attached to Townie Bookshop, welcomes dogs to its airy brick patio in front. Choose patio tables or lounge in an Adirondack chair with a hot drink from the full-service espresso bar. Options include gourmet coffees, loose-leaf teas, chai options, specialty beverages, and sweet and savory baked goods.


Pet-Friendly Pizzerias
If you're in the mood for pizza, you're in luck. Two top-notch pizzerias in Crested Butte have dog-friendly patios.
Mikey's Pizza
has outdoor seating on its enclosed patio, where dogs are welcome. It specializes in New York-style pizza and offers sandwiches, salads, calzones, and all-day breakfast items.
Secret Stash
also has a large, covered patio area with several tables set aside for diners with dogs. Locals
report
that the restaurant is very dog friendly, with servers offering water bowls. The best-selling pizza, The Notorious Fig, won the World Champion Pizza Challenge.
Dog-Friendly Hikes at Crested Butte
High alpine hikes at Crested Butte Mountain Resort are an ideal outdoor activity for guests with dogs, especially those with lots of energy. You'll also need to be fairly fit – dogs are not allowed on the chair lifts, so prepare to hike up from the base area. Leashed dogs are welcome on resort trails, with the exception of bike-only downhill trails. Consult the
trail map
for a suitable route, and stick to multi-use trails marked by dashes rather than the solid lines marking bike trails.
Gunnison National Forest
, adjacent to the resort, allows leashed dogs on hiking trails, roads, and developed areas. Your dog must have a collar and current tags. A few popular trails for dog-friendly hikes include Judd Falls, a two-mile round-trip from a trailhead nine miles outside the resort. The trail is wide, rated easy, and rewards you with a spectacular two-tiered waterfall. For a longer, dog-friendly hike, consider the 5.8-mile
Snodgrass Mountain Trail
. The trailhead is just 1.8 miles from the resort.
More Activities Perfect for Pets at Crested Butte
During a wintertime vacation with your dog, you can share the fun of snowshoeing or Nordic skiing along groomed, dog-friendly trails in Crested Butte. Some, but not all, of the groomed trails in the area are dog-friendly, so check with the experts at the
Crested Butte Nordic Center
when you pick up the required passes. Up to two dogs are allowed per person, and leash rules vary by trail.
Blue Mesa Reservoir is a potential day trip for you and your dog about an hour from Crested Butte in the Curecanti National Recreation Area. It's an especially
pet-friendly recreation area
offering fishing, hiking, canoeing, paddleboarding, and a dog-friendly beach.
Excited About a Crested Butte's Dog-Friendly Vacation?
Start planning your pet-inclusive vacation at
Crested Butte Mountain Resort
today.