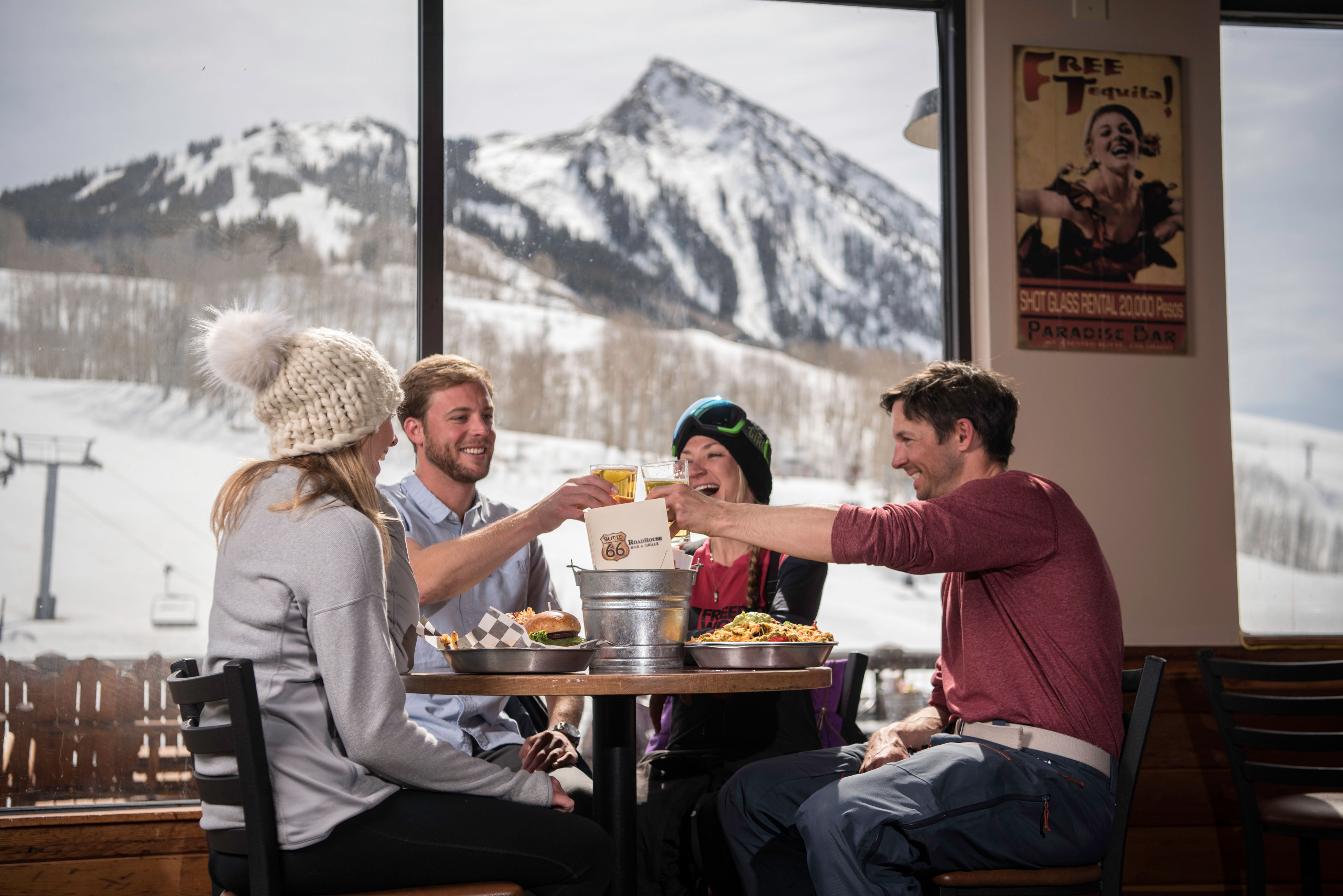 BASE AREA

A base area staple, Butte 66 Bar & Grille features some of the best views of the Butte! Located just steps away from the Red Lady Express, Butte 66 is offering full bar and table service for winter 2022/23, with an expanded menu, frequent live music, happy hour specials every day, and Tappy Hour Tuesdays, showcasing a rotating series of beer taps. The Butte 66 deck is the perfect spot to kick back after a day well spent.

Brand new for winter 2022/23, Rooster Run is located in the Treasury Center adjacent to the Butte 66 dining room, offering a quick option for dine-in or take-out. The all-new menu specializes in chicken and fries (with a vegetarian option, of course!). Rooster Run is open on Fridays, Saturdays and Sundays.

Located conveniently in the Treasury Center below Rooster Run, Coal Breaker Coffee Co. is a great spot to fuel up for an epic day before hitting the slopes. New for winter 2022/23, Coal Breaker will expand its offerings to include artisan-style sandwiches, pastries, soups, and grab-and-go salads and breakfast sandwiches, as well as espresso beverages.

Woodstone Grille, located in the Grand Lodge, is a great spot for guests to grab breakfast on their way from the parking lot or bus to the chairlift. It has more made-to-order breakfast offerings and a menu of healthier options for winter 2022/23, along with espresso drinks.

ON-MOUNTAIN

Located at the base of Paradise Express, Paradise Warming House is the perfect mid-mountain meeting spot. It's got all you need to refuel -- from burgers to soups and chili and more! Take a break in the Adirondack chairs on the patio and gear up for the rest of your day.

The Umbrella Bar at Ten Peaks is back for winter 2022/23 for the first time since before the pandemic! Located at the top of Painter Boy chairlift, the Umbrella Bar is perfectly situated for beginners and fans of blue groomers to take a break and refuel. It offers postcard-perfect views of the valley and a variety of food options for the whole family.

Guests looking for an upscale on-mountain dining experience should look no further than Uley's Cabin. Located at the bottom of Peanut run off Red Lady Express, Uley's will continue to offer its highly sought-after classic menu, adding a Japanese-influenced pop-up concept indoors for winter 2022/23. Outside, guests can play games like cornhole and giant Jenga while enjoying American-style favorites on the grill. Guests can make a reservation to dine indoors at Uley's on OpenTable.


There you have it – an option for every kind of diner, skier and rider! Whether you're picking up a tasty treat or hitting a tasty line, we can't wait to see you out there.

For restaurant locations, opening dates and hours of operation, please visit our website.