For Ages 7 to 14 Years Old
Mountain Adventures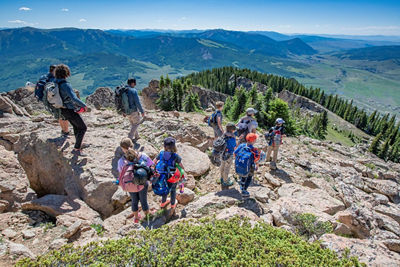 Registration Now Open
Summer 2022
Get your child ready for the summer of a lifetime with Crested Butte Mountain Resort's Mountain Adventures Program! Your child will be immersed in incredible summer mountain adventures including water sports, climbing, archery, mountain biking, and everything in between.
Please review Schedules & Forms section below for registration.
Previous tab
Previous tab
Program Overview
Overview
Gear up for an adventure of a lifetime with our Mountain Adventures program! Our program is fully state child-care licensed and also permitted with the BLM and US Forest Service in the Gunnison National Forest. This summer day recreation program is for children ages 7 to 14 and is based in Mt. Crested Butte, Colorado. Explore the Gunnison Valley Mountains while rafting rivers, paddle boarding lakes, climbing crags, hiking trails, or with a fly-rod in hand!
Our mission is to provide opportunities for personal growth and connection to the environment through safe, educational, and fun adventure-based activities. We provide quality outdoor adventure experiences for residents of the Crested Butte area as well as summer visitors from mid-June through August. We believe that children grow and learn best in a supportive, nurturing environment in which participants feel safe to take on personal challenges. Mountain Adventures practices Leave-No-Trace ethics and Challenge-By-Choice learning.
Multiple activities are offered each day and your child must select one activity per day. Availability for each activity is limited, and is filled on a first come-first served basis. Activity is chosen at time of registration.
Immunization Records Information
A Certificate of Immunization, showing up to date vaccinations, is required for all children participating in camp due to our State Licensing Requirements. Regardless of what you have been able to do in the past, all participants will be held to the guidelines outlined below. The Colorado Department of Public Health (CDPHE) requires certain vaccines based on age and you can find the most recent vaccine schedule on the CDC website at the link below. Your child is NOT required to have a COVID Vaccination this summer. Refer to the following link to ensure your child meets the state requirements.
Your child will not be able to attend camp if we do not have a Certificate of Immunization reflecting up to date vaccines or an exemption certificate 24 hours before arrival. It is your responsibility to know if your child is eligible to come to camp based on the information on this form.
Schedule & Forms
Schedule
Mountain Adventures is offered June 13 - August 19, 2022, Monday through Friday from 9:00am - 4:00pm. We will be closed on 4th of July.
Drop Off at 9:00am in Camp CB, located in the Whetstone Building (14 Snowmass Road).
Drop Off for Rafting and Fly-Fishing is 8:15am in Camp CB.
Pick Up at 4:00pm in Camp CB.
Late Policy
Please note, our programming is complex and requires our participants to be dropped off on time and at the Camp CB drop-off location. Every participant is required to have a Parent or Guardian sign-in for each activity day, unless stated otherwise on sign up forms. This is required by our State of Colorado Licensing agreement. No exceptions are allowed. In addition to the sign-in requirements, we do not accept participants who are late for offsite activities. It is best practice to have all participants together from the beginning of all activities to cover safety rules, guidelines and expectations for the day. This best practice benefits the instructors and sets up participants for success and safety. If participants are late and the activity has left the Camp CB drop-off area, participants will be charged for that day's activity and will be unable to participate.
Forms
Please download and fill out the forms below. In order for your child to participate in Mountain Adventures, signed copies must be submitted to cbmtnadventures@vailresorts.com
Summer 2022 Registration Packet
If your child will receive any type of medication while participating in Mountain Adventures, whether self-administered or by staff, you are required to download these forms and have them signed by your physician:
What to Bring
The weather and climate of our high-altitude environment are not to be underestimated!
Exposure to the sun is extreme, and temperatures can change dramatically over the course of the day. Please make sure your child is ready for a day out in the elements. Please have your child come prepared with the following:
Day pack with the following in it.
Bag Lunch
Sunblock
Water bottle
Sunglasses
Hat
Jacket or sweater
Shorts or lightweight pants
Rain jacket-while it may not look like rain, the weather changes very rapidly here
See activity descriptions below for specific activity needs.
Payment & Cancellations
Pricing
Discounts are also available for summer Vail Resorts employees and their dependents. Summer employment must be verified at time of registration.
Standard Pricing
Archery & Disc Golf, Mountain Adventure Day, Mountain Biking: $85
SUP/Lake Day, Rock Climbing, Ropes Course: $110
Rafting, Fly Fishing: $135
Pricing for Winter 2021-2022 Seasonal Program Participants
Discounts are offered to children who participated in a Winter 2021-2022 seasonal ski/ride program at CBMR. This includes Mini Cruisers, Cruisers, Mountain Adventures, Mountain Sports Team and School Groups.
Archery & Disc Golf, Mountain Adventure Day, Mountain Biking: $77.
SUP/Lake Day, Rock Climbing: $99.
Ropes Course: $102.
Rafting, Fly Fishing: $127.
Payment
Payment can be paid in full at time of registration or in 3 monthly increments. To qualify for the monthly payment plan option, you must have a current card on file and register your child/children for at least 8 days. Payment plan schedule is charged June 8th for programming during June, charged June 28th for programming during July and charged July 27th for programming during August.

Cancellations
Due to the complexity of scheduling multiple activities per day for hundreds of children per week and providing staff with timely work schedules, we provide these opportunities for cancellation:
You may cancel with more than 48 hours' notice to receive a full refund. Additional notice, whenever possible, is always appreciated.
Cancelling within 48 hours of the activity will result in no refund except medical or family emergencies
Parent's Manual
Each parent and/or guardian is responsible for reading this parent handbook and any supplements which we may provide from time to time. Mountain Adventures Summer Program will attempt to notify you of significant changes in services, policies, or procedures listed in this handbook. We encourage you to offer suggestions, comments and constructive feedback as well as your moral support.
Download Here