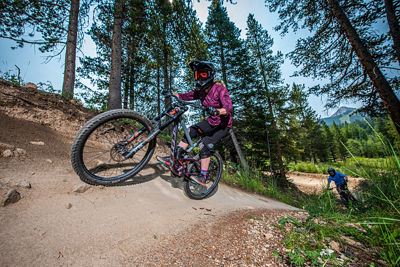 Where and when?
The Pinnacle Race Series will take place during Twilight Hours every Friday from June 30-July 28, weather permitting. Race check-in is from 4:00-5:00 pm on the top floor of the Treasury building, next to Butte 66 in the base area. Upon check-in, participants will receive their race plate as well as a ticket for a free beer from Irwin Brewing (21+) at the Butte 66 after-party. Races begin at 5:15 p.m. at the top of the specified trail.
Weekly Race Courses*:
6/30: Luge
7/7: Teaser
7/14: Twisted Trees
7/21: Woods
7/26: Avery

*Scheduled trails are subject to change. Races may be canceled due to inclement weather.
How do I participate?
Signing up for Pinnacle is easier than ever! For the first time, guests can register online. Registration is $5. Online registration opens on Saturday at 9:00 am the week before each race and closes at 2:00 pm on race day. If spots are left, on-site registration will be available at 4:00 pm on the day of each race.
To access the start line via bike haul, participants must also have a season bike haul pass, a bike haul ticket or a Twilight ticket. Upon registration, guests will select which category they want to race in.
Race Categories*:
Junior Sport (Under 18)
Junior Expert (Under 18)
Adult Sport (18+)
Adult Expert (18+)

*Male and female divisions for each.

What about the after-party?
The after-party and awards ceremony will take place at Butte 66 beginning at 7:15 pm after each race. There will be great prizes from Fox Racing, as well as a raffle for a GoPro HERO11. Competitors 21+ will be able to redeem their free drink ticket at the after-party.

Whether you're racing, spectating, or just enjoying the after-party, this year's race series is sure to be fun for everyone! We can't wait to see you out there for another year of Pinnacle.